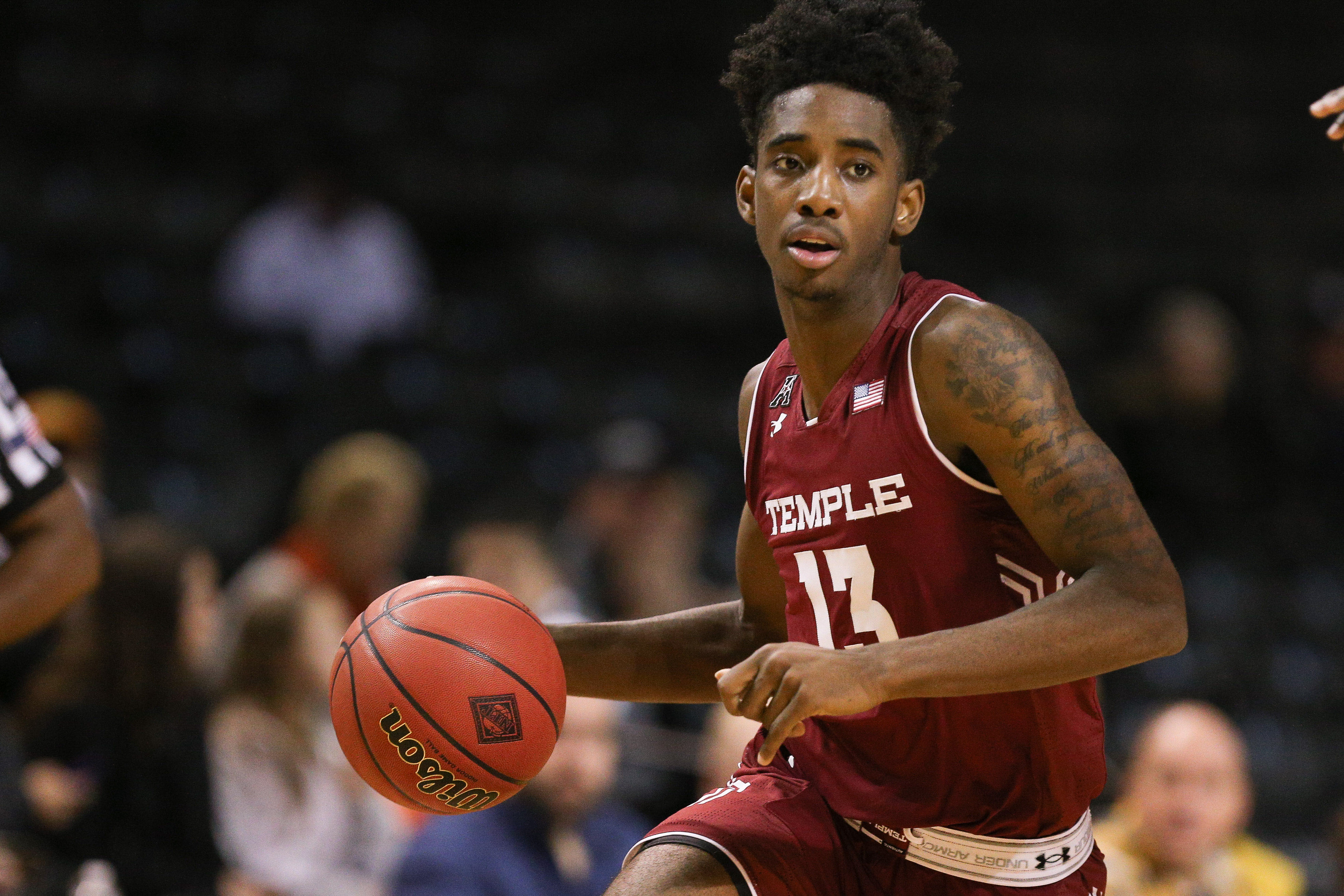 Courtesy of OwlSports.com
CHARLESTON, S.C. – With a big second half and a trio of bigtime performances, Temple men's basketball defeated Auburn (2-1) 88-74 to advance to the Gildan Charleston Classic Championship. The Owls (2-0) will play either Clemson or Hofstra in the title game on Sunday, Nov. 19 at 9:30 p.m. (ESPN2 / 1210 AM WPHT).
Keys to the Game
> Four Temple players reached double figures in scoring, led by Obi Enechionyia's double-double of 19 points and 10 rebounds.
> After shooting just 33 percent in the first half, the Owls were closer to 70 percent for much of the second half in a 56-point effort.
> The teams played a tight, defensive battle in the opening period, and Temple led just 32-31 at the break.
> Temple hit 10 three-pointers for the second time in as many games this season, led by Quinton Rose who went 5-of-8 from long range.
Individual Highlights
> Enechionyia's double-double was the fourth of his career and first since the Owls won the NIT Season Tip-Off with an upset of #19/17 West Virginia on Nov. 25, 2016.
> With 986 career points, Enechionyia now needs just 14 more to become the 52nd player in program history to score 1,000 points.
> Rose tied Enechionyia for game-high honors in scoring, finishing with 19 points and adding six rebounds.
> Shizz Alston, Jr. went 6-of-9 from the field and 4-of-4 from the stripe for 18 points. Alston has now made 36 consecutive free throws dating back to December of 2016.
> Alani Moore II came off the bench for 10 points, going 4-of-9 from the floor.
First Half
> The first half was a defensive battle that saw four ties and five lead changes.
> Auburn's largest lead was six, 22-16, but it lasted only four seconds. The Owls' largest lead was five, reached with one minute left in the period.
> The Tigers hit 4-of-4 free throws in the final minute, cutting Temple's lead to just one point at the break, 32-31.
> Neither team shot well from the field, but the Owls managed 33.3 percent to Auburn's 24.4 percent.
> Enechionyia led the Owls at halftime with eight points and six rebounds.
Second Half
> With a 6-0 run to start the half, the Owls led by seven and matched that lead again at 17:45.
> Auburn picked up the pace and had the game tied twice at 48-48 and 54-54.
> Temple trailed for the first and only time in the second half at 10:17 when Auburn briefly took a 56-54 lead on a steal and bucket.
> The Tigers had an answer for most of Temple's buckets, but the Owls re-took the lead and kept it thanks to a string of six straight field goals.
> After leading by just three, 70-67 with five minutes remaining, the Owls closed out the game on an 18-7 run, with their largest lead being the final margin of the game.
Quotable – Head Coach Fran Dunphy
> "I thought we kept our poise for the most part…it's a really good win for us and we're thrilled to get it."
"Q is a guy that will occasionally miss three-pointers very badly, but he's got a lot of confidence in himself and he stepped up and made those three in a row. He's a guy that can make a lot of things happen, and you're going to have to live with some of the mistakes that he does make."
"We've had a nice couple of years here (at the Charleston Classic). We've been in the finals before and we won a couple of games another time that we were here. We feel really good about it. It's nice. Anytime you come to a tournament like this, you want to be sitting there at the championship. It's a great feeling for your kids."
Next Up
> The Owls will play either Clemson or Hofstra in the title game on Sunday, Nov. 19 at 9:30 p.m. (ESPN2 / 1210 AM WPHT). Clemson and Hofstra will meet at 9:30 p.m. (Friday).