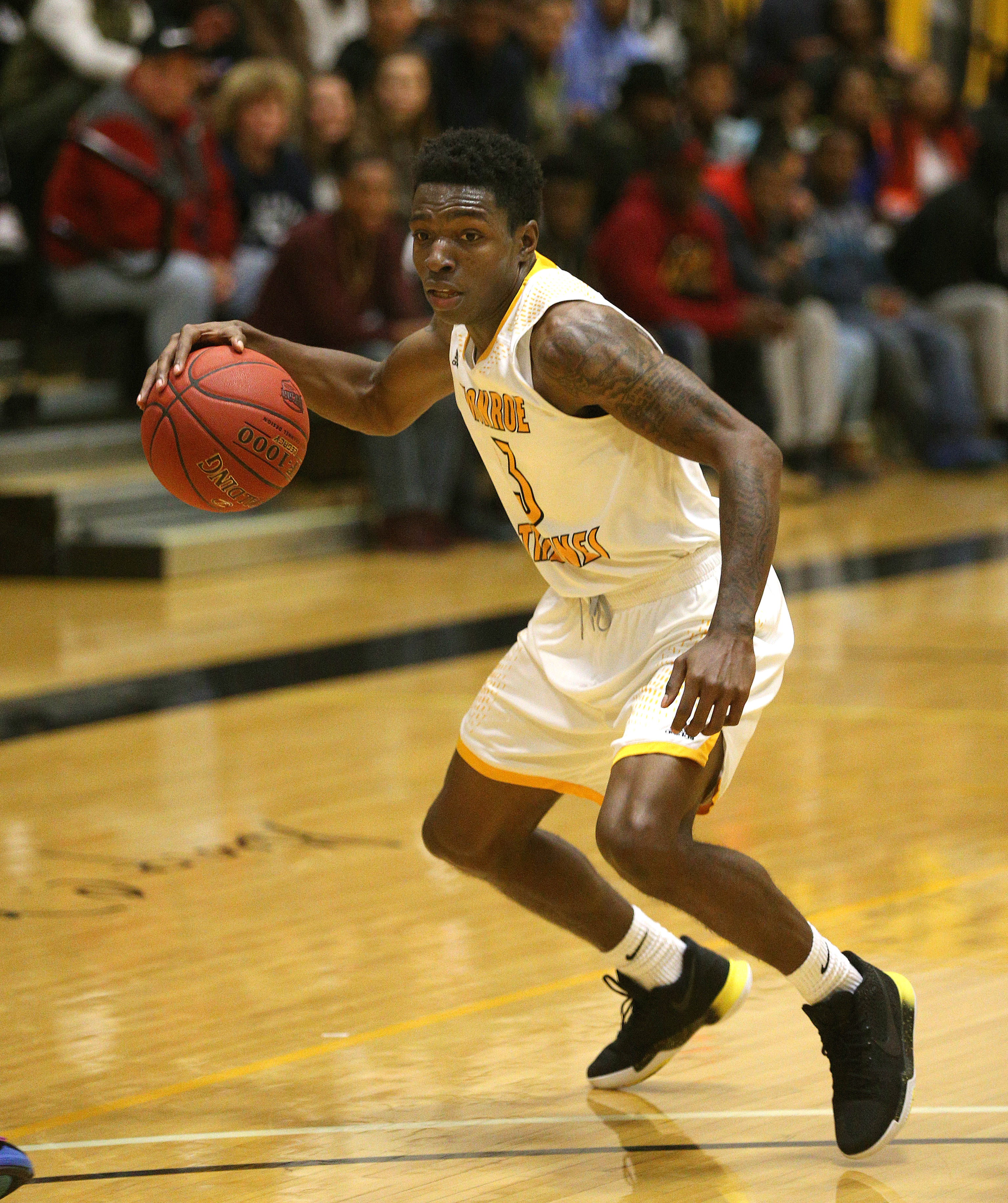 By PAUL GOTHAM
ROCHESTER, N.Y. — The Monroe Community College men's basketball team turned a 10-point halftime advantage into a 25-point blowout as the Tribunes coasted past Mercyhurst NE in Region 3 action on Monagan Court, Wednesday night.
Brien Wilson posted a double-double, and Majesty Brandon turned in a career-high effort, and the Tribunes (3-2/2-0) showed glimpses of possibility on the defensive end in a 90-65 victory over the Saints.
"It's always a positive to see some good signs," Monroe head coach Jerry Burns said referring to his team's goal of holding opponents under 60 per game. "We're trying. The ball moved a lot better on the offensive end. But when you turn it over and you give up easy baskets, those are the hard ones to swallow."
Wilson corralled a game-high 16 rebounds and netted 10 points in the victory. More importantly, the 6-foot-9 sophomore forward, who blocked nine shots in Sunday's loss to Mohawk Valley, swatted five Mercyhurst NE attempts Wednesday night.
"He's doing a lot of the things that again no one sees," Burns noted. "It's not just the blocked shots. It's the intimidation that leads to missed shots. He also bails out many a teammate on the defensive end. They've been beaten, and he's there."
Wilson finished the night 3-of-3 from the floor and four of six from the free throw line. The Hartford, CT native is averaging 7.8 rebounds and 4.6 blocks.
"I just try to be the backline," Wilson said. "I understand that I can use my height and my length for a good cause. If my teammate gets beat, I can just be there. Even if I don't get the block, I can change the shot. There were a couple times tonight they just threw it up because they knew I was going to be there."
Brandon came off the bench and connected on a 8 of 17 shots from the floor including five of six from behind the arc. The freshman guard added 10 of 12 from the free throw line for a game-high 31 points.
"We're trying to decide between bringing him off the bench and starting him," Burns noted. "He packs a nice punch when he comes off the bench. Maybe we need to start him to get going right away. It's early. We're trying to feel our way with those sort of things."
Brandon's floater in the lane gave Monroe a four-point edge at 22-18. The Bronx, N.Y. native who came into the contest averaging 13.7 points per game, connected three times behind the arc in the first half as part of a 17-point effort heading into the locker room.
"This was the day to show coach what I can do," Brandon said. "We started off slow. Coaches told me they needed me to score. I started attacking."
Mike Kelly, Jr. added 16 points on 5-of-7 shooting from the floor and six of seven from the free throw line.
"He's a tough match," Burns said of Kelly. "He's big. He can shoot it. He's a tough matchup. They put a guard on him he can get by and finish in the post."
Monroe held the Saints to 33.3 percent (24 of 72) shooting from the floor including 6 of 28 (21.4 percent) from behind the arc. The Tribs forced 20 turnovers.
"We would do a great job three times in a row of playing very good defense, and we get a rebound and dribble it off our foot," Burns said of the effort. "We would get a rebound and throw a turnover. That's the next level of maturity that we haven't reached yet."
Monroe outrebounded Mercyhurst NE, 47-33. The 65 points was the lowest allowed by Monroe this year.
Ryan Beckles, Gilberto Cue, Wesley Nelson and Charles Prater chipped in six points apiece for the Black and Gold.
Andrew Ajilore led the Saints with 12 points on 5-of-9 shooting.
Monroe plays nationally-ranked Richard Bland Friday in the Legends Classic at Baltimore, MD. A 6 p.m. tipoff is scheduled against the No. 2 team in the country.