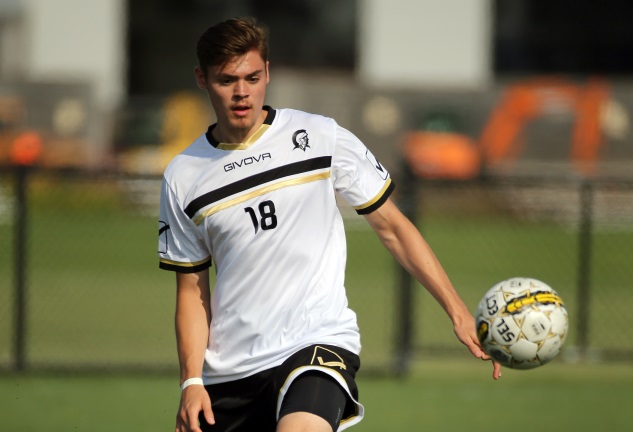 By PAUL GOTHAM
ROCHESTER, N.Y. —  A few months have passed, but the memory hasn't faded. It was a Monday morning this past April. Ethan Witkowski and his then University of Buffalo teammates gathered in a meeting room on campus.
The Bulls soccer team had an out-of-town scrimmage the previous night and arrived back at campus late. Witkowski fought off sleep as he had a seat along with student-athletes from three other UB sports programs. The LeRoy, New York native figured paperwork needed to be completed, and it was best to bring everyone together.  He had no idea his life would adjust course.
The meeting was brief, the message direct: the school was dropping its men's soccer team along with three other programs.
"I was shocked because we had a really good season," Witkowski said recently. "They just said unfortunately we don't have the funds. They never gave a particular reason. We were on our own at that point."
The two-time All-State performer suddenly found himself without a place to play.
"I had an incredible experience at Buffalo. I learned so much that year just about being a teammate. I obviously wasn't a starting player, but I worked through it.
"I was really disappointed when we got the news that the team was cut.  I was working extremely hard just to break into that lineup and I did (break into the lineup) that spring."
Witkowski wasted little time and applied a lesson from the game into real life: he moved on to the next play.
"It was definitely shock at first and minutes after I was like 'all right I got to find another school to continue playing.'"
But Witkowski and his teammates, as well as the members of the other programs, found themselves at a distinct disadvantage.
"Of course, my first goal was to transfer to another Division I school, but it was so late. Scholarships and even roster spots were almost 100 percent gone."
His road led back to Monroe Community College.

"Nelson recruited me out of high school," Witkowski said of Tribunes head soccer coach, Cupello. "He wanted me to play here from the start. Obviously, my goal was to go to Division I out of high school."
"When I saw him this summer, I knew UB had dropped the sport," Cupello said.  "I asked him 'What do you think?' I said 'come here for a year, and we'll see what we can do.'"
With that, Witkowski focused his energies upon the Tribune program. But an abdominal injury slowed him early in the season. He appeared sparingly in Monroe's first two contests and sat out the next eight matches.
The 6-foot-2 forward came off the bench and assisted on a goal in MCC's 5-0 win over the Community College of Rhode Island on October 7th. Four days later, he was inserted into the starting lineup and netted both goals in Monroe's 2-1 win over Mercyhurst University JV. He added another tally the following game – a win over Cuyahoga CC and scored his fourth goal in as many games in a 3-0 victory over Region III rival Mercyhurst NE – the Tribs fifth straight win.
"He adds a great dimension to our offense," Cupello said of the sophomore. "It's great and I'm glad for him. He's a great kid. I kinda dropped the ball on him coming out of high school. I lost track of him. When I saw him this summer, I told him it was my fault."
MCC hosts the Northeast District championship this weekend with a spot in the NJCAA Division I National Tournament at stake. The Tribunes (10-3-2) bring an eight-game undefeated streak into play when they take on Monroe College in the semi-finals.
"The goal of the team is not only to make it to nationals, but to have a really good run in the nationals. As a team we come together, and our individual players can be seen by other coaches. That's a secondary goal to go on after this year and to play at the highest level we can play."
MCC will be looking for its first trip to the national tournament since 2012.
An 11 a.m. kickoff is scheduled Saturday.