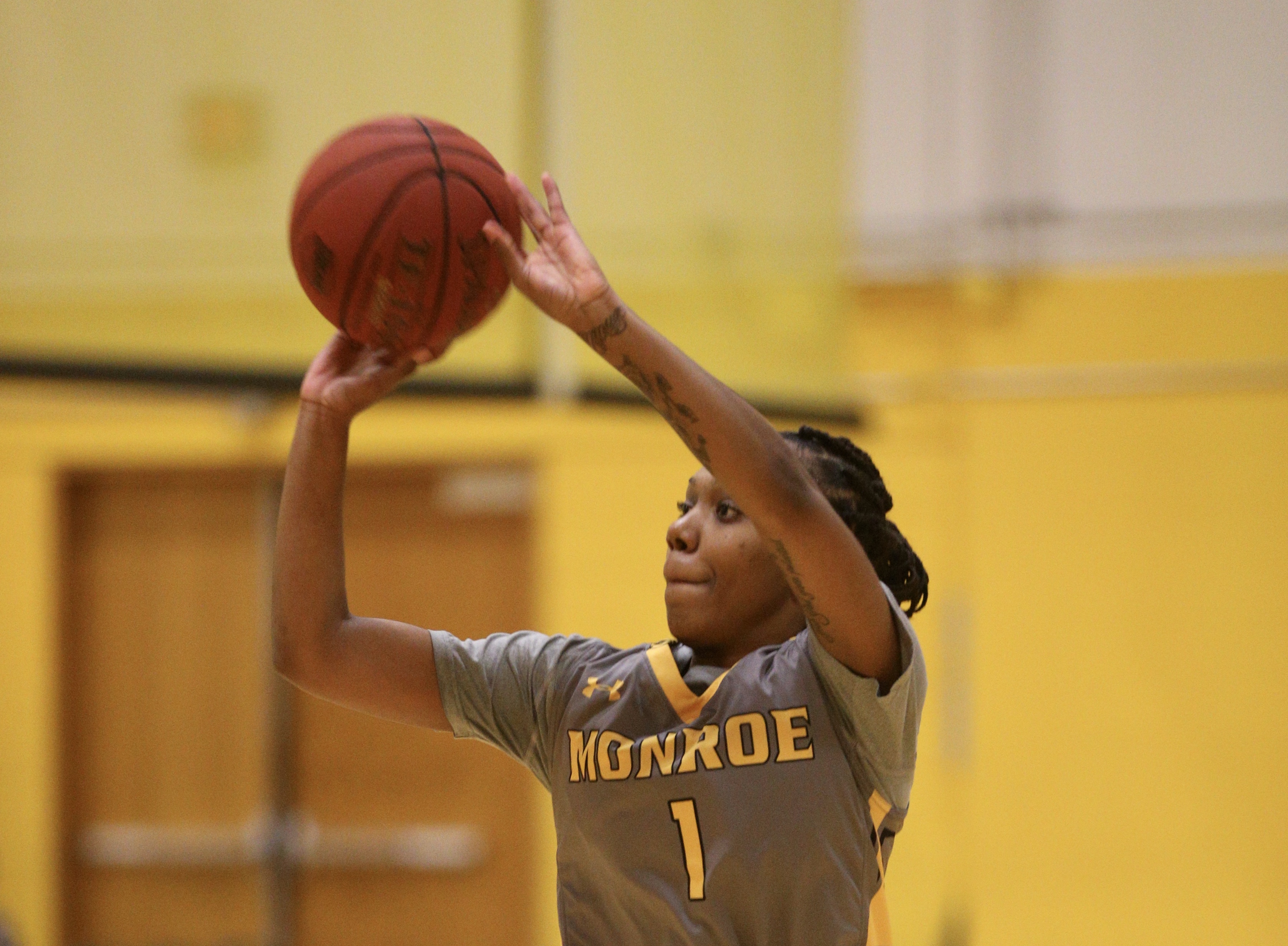 By PAUL GOTHAM
ROCHESTER, N.Y. — Lanay Rodney registered a double-double, and the Monroe Community College women's basketball team opened the 2017-18 season with a 104-60 victory over the Finger Lakes Community College Lakers in non-conference action on George Monagan Court, Wednesday.
Rodney netted a team-high 26 points on 11-of-17 shooting and hauled in a game-high 16 rebounds.
The 2016-17 NJCAA First Team All-American knocked down a pair of free throws and converted a rebound and putback in transition during a decisive 17-4 run to close the first half.
"We have a bad tendency for starting off slow," said the 5-foot-8, sophomore forward. "But we got with it during that run."
A change in defense helped the Lady Tribunes find their rhythm during that span.
"Once we switched into man (defense), a lot of opportunities in transition opened up for us," said Erica Abitante who connected twice from long range in the closing moments of the first half. "It was easy buckets."
Torrie Cash sparked the run. Leading by six at 29-23, the sophomore guard hit one of the Lady Tribunes five 3-pointers in the stanza. After Rodney's work at the charity stripe gave the Tribs their first double-digit lead of the night, Abitante followed with her own trey for a commanding 37-23 Monroe advantage.
"We started finding each other," Abitatne said. "We were looking for the extra pass."
Abitante connected again from behind the arc as the buzzer sounded for a 46-27 halftime lead.
The Tribune defense limited Finger Lakes to one made field goal over the final 5:17 of the stanza.
"Defense was the focus," Rodney noted. "We have to focus on defense more because we know the offense is going to come from it."
Monroe pushed the lead to 20 early in the second half, and Abitante connected again from long range for a 25-point lead at 61-36. FLCC did not cut the margin below 20 for the remainder of the contest.
Abitante and Sierra Green combined to connect 10 times from behind the arc. The long-range duo hit on six of 11 attempts in the second half.
"Once I saw one go in, I started feeling it," Abitante stated. "I just kept shooting. Even if I missed, I just kept believing in myself and kept shooting it."
Rodney corralled eight offensive rebounds and was part of an overall effort which saw the Black and Gold outscore their counterparts 27-10 on second-chance points.
"Just crashing the boards," the Peekskill, New York native said. "Every chance that was given, I was going for it."
Green, a third-team All American a year ago, poured in 21 on 8-of-16 shooting including 5 of 10 from behind the arc.
Abitante followed with 19. Cash chipped in 13 points to go with seven rebounds, six assists and two steals. Taliyah Brisco had 12 points and four assists.
Monroe finished with 23 assists on 40 made field goals while committing just seven turnovers. The Lady Tribs' defense forced 17 miscues.
FLCC's Sarah Lacey led all scorers with 28 points. Megan McAllister had 10.
Monroe travels to Boston over the weekend to compete in the Roxbury CC Invitational . MCC opens the tournament Friday against Montgomery College (MD).