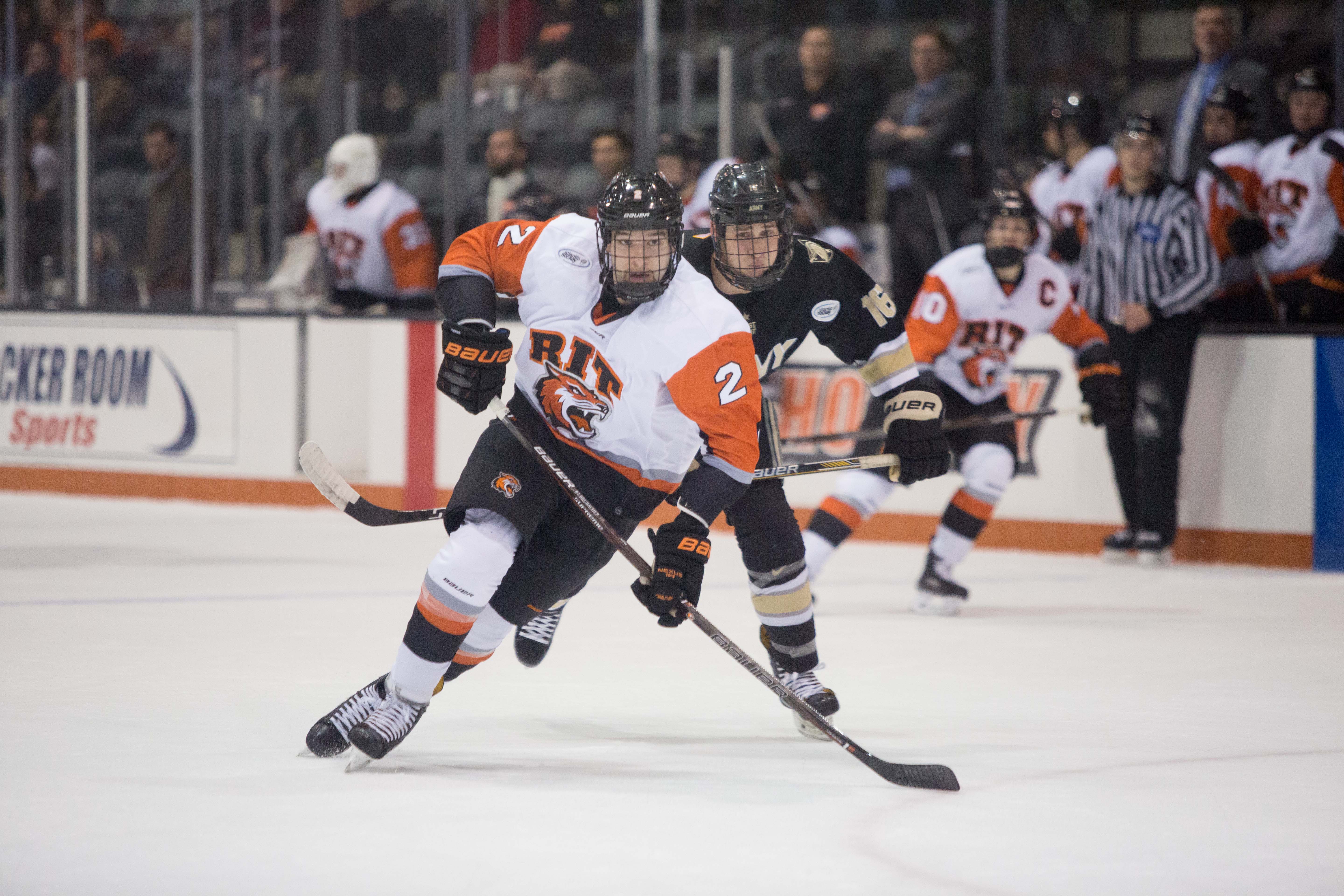 Courtesy of RITAthletics.com
ROCHESTER, NY – RIT and 13WHAM Rochester are teaming up to bring men's hockey broadcasts over the air for the 2017-18 season, as 16 regular season home games will be aired on CW Rochester.
In all, 12 of the 16 games will be aired live, with four (Nov. 3, Nov. 10, Feb. 2 and Feb. 23) to be shown on tape delay. The inaugural broadcast will air on Oct. 20 vs. Union College.
CW Rochester is broadcast over WHAM-TV's digital signal at channel 13.2. It can also be seen on DirecTV channel 14 and Spectrum cable channel 16. The station provides primetime programing from the CW network every weeknight and a variety of syndicated programming throughout the week.
"Rochester's premier TV station group proudly joins forces with our community's only NCAA Division I athletic program," says Chuck Samuels, WHAM-TV and WUHF-TV general manager. "Telecasts of RIT men's hockey on CW Rochester will be available to both cable and satellite customers, as well as viewers of free television via our over-the-air signal. The excitement of Tigers hockey has never been more accessible to members of the RIT community and the sports fans of western New York."
As in years past, all games will be produced by RIT SportsZone LIVE. All 12 live broadcasts will start with the pregame show at 6:30pm and will feature highlights, live interviews, analysis and more, prior to faceoff. Gene Battaglia and John DiTullio will be regular contributors to the program and will handle the play-by-play duties for RIT hockey broadcasts for a tenth consecutive season. Kevin Roche will host the pregame show for the second straight season.
RIT SportsZone debuted as a sports magazine program in 2002.  The show, which highlighted all 23 of RIT's varsity sports, aired for 14 seasons, having won the College Emmy Award for "Best Newscast" in 2012.  RIT SportsZone LIVE has also earned national acclaim since it began producing and broadcasting Tiger hockey.  SportsZone LIVE has been named Sports Video Group's "Best College Athletics Live Event" twice since 2008.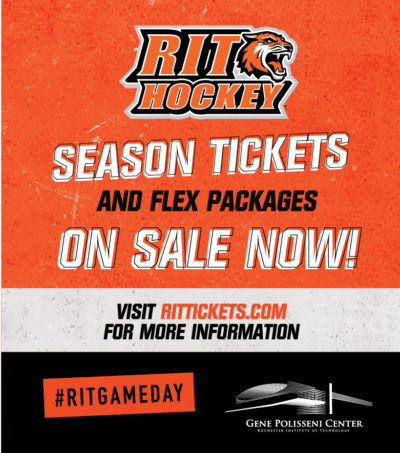 "We are excited to partner with CW Rochester to showcase Tiger hockey to their viewers in western New York,'" said James Watters, RIT senior vice president of finance and administration. "Working with CW Rochester, our RIT SportsZone Live team will produce a fast-paced show featuring college hockey at its best. RIT SportsZone is consistently recognized as one of the best sports programs in the nation."