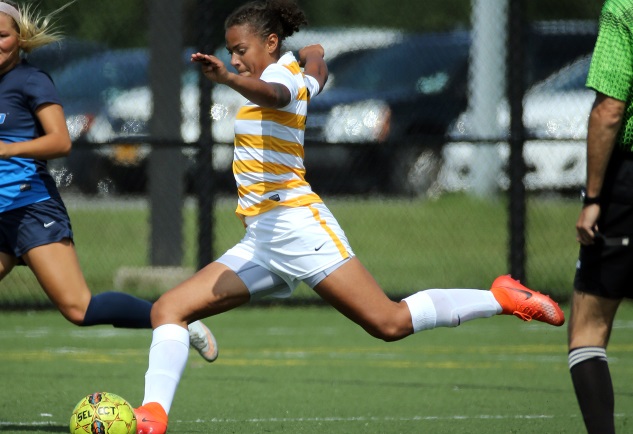 By PAUL GOTHAM
ROCHESTER, N.Y. – Paige McGrath netted a hat trick including two goals in a decisive first half as the No.2 Monroe Community College Lady Tribunes celebrated homecoming with an 11-0 victory over the Roberts Wesleyan College JV squad Saturday on John L. DiMarco Field.
McGrath wasted little time getting the Tribunes on the scoreboard when she took an Elin Eklund pass for a 1-nil lead in the opening minute.
"Paige has gotten in there," Monroe head coach Sal Galvano said. "She's come in there nicely and finished up some easy passes."
By the time McGrath found the back of the net, again, the Tribunes led 5-0 and never looked back.
"We recruited her as a forward," Galvano said of McGrath. "She has tenacity. She's a spitfire. It's nice. She gets in there she knows how to finish. She's a threat from the outside. No one see her coming."
Tribune leading scorer Roosa Ariyo added four tallies and one assist in the match. The 5-foot-10 forward from Helsinki, Finland added Monroe's fifth and sixth markers of the opening stanza.
Monroe converted back-to-back corner kick opportunities early in the first half, and Theoni Zerva contributed to both scores. Zerva delivered a strike with an in swing from the right corner for a 3-0 advantage in the 12th minute. Two minutes later, Ariyo flicked another Zerva service to McGrath for a 4-0 lead.
Ariyo has 23 goals and five assists on the season.
Zerva contributed two goals and two assists on the afternoon to run her individual season totals to 14 and 14 respectively.
Eklund added a goal in the match to go with her first-half assist. Emma Moulton chipped in with three helpers and Bayley Kralik had two assists.
The win was the seventh straight for MCC (9-1). The Lady Tribunes have not allowed a goal in their last five matches, a stretch in which they have outscored opponents, 42-0. Monroe has allowed just six goals this season.
"We've had some easy games, nothing too challenging," Galvano noted. "We start off a little slow sometimes, but they finished. Once we play at our level, no one can hang. It's been all right."
The Lady Tribunes travel to Michigan next weekend where they will play No. 9 Schoolcraft College on Friday and No. 7 Lewis & Clark Community College on Saturday.
"We'll be tested which will be nice. Both of those teams haven't lost. We're hoping that we can come out with the right results, and that we don't take it as lightly mentally going into it with having some lighter games. That's the big thing for me. Can we come in and still be ready to go."