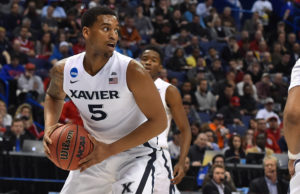 Courtesy of GoXavier.com
CINCINNATI — Xavier University senior Trevon Bluiett has been named to another preseason All-America team. Blue Ribbon College Basketball Yearbook lists Bluiett as a 2017-18 preseason Third Team All-American in its preseason magazine. Bluiett was selected as a 2017-18 preseason Second Team All-American by NBC Sports earlier this year.
"Trevon is one of the best players in all of college basketball," said Xavier University head coach Chris Mack.
Bluiett, a 2015-16 and 2016-17 First Team All-BIG EAST Conference selection, was second in the BIG EAST Conference in scoring as a junior at 18.5 ppg. Bluiett was second on the team in rebounding at 5.7 rpg., which ranked 10th in the BIG EAST. He ranked third in the BIG EAST in 3-point field goals made at 2.5 per game, including a career-high and school-record tying nine at Cincinnati.
The 2017 postseason brought out the best of Bluiett both in the BIG EAST Tournament and in leading XU to the NCAA Tournament Elite Eight. Bluiett, who earned a spot on the five-member All-West Regional Team, averaged 21.3 ppg. for Xavier's four games in the 2017 NCAA Tournament, including 21 (18 in second half) vs. Maryland, 29 (21 in second half) vs. Florida State and 25 (18 in the first half) vs. Arizona. Bluiett was named to the All-BIG EAST Tournament Team for the second straight year after averaging 19.3 points, 5.7 rebounds and 3.3 assists for Xavier's three games at Madison Square Garden.
The Indianapolis native is on target to become only the fifth 2,000-point scorer in Xavier history. Bluiett, who has moved up to 15th place on XU's all-time scoring list with 1,585 career points, is actually on pace to finish as high as second on XU's all-time scoring list. His 665 points as a junior rank fifth-best all-time for Xavier single season scoring totals.
Bluiett earned postseason 2015-16 USA Today Third Team All-America honors after a standout sophomore campaign.