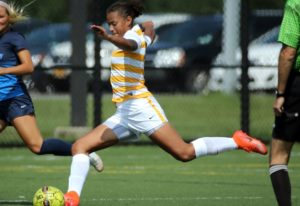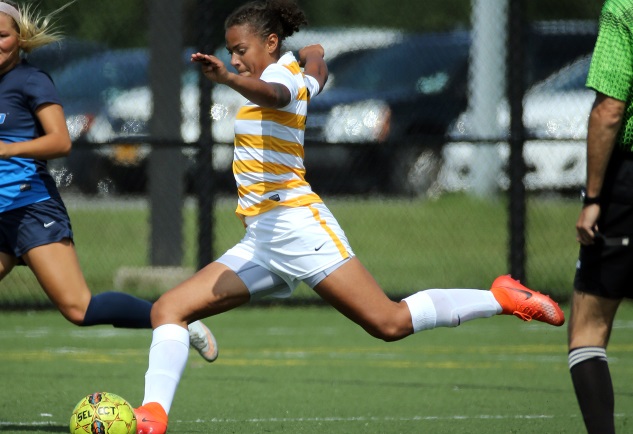 By PAUL GOTHAM
ROCHESTER, N.Y. – A few wispy clouds were all that shaded an otherwise sun-splashed afternoon at John L. DiMarco Field. The weather conditions made it hard to imagine that winter is not far away in upstate New York.
The Monroe Community College women's team, though, delivered an avalanche of early offense that proved the difference in Wednesday's matchup of national powers.
Roosa Ariyo converted Theoni Zerva's corner kick in the match's opening minute, and the rout was on as the Lady Tribunes, ranked No. 4 in NJCAA Division I, breezed to a  7-1 victory over the Erie Community Kats ranked No. 1 in Division III.
"We played well," said Monroe coach Sal Galvano. "We took care of business right from the beginning. First 15-20 minutes we were up 4-0. They knew what they needed to do."
Ariyo climbed the ladder to head home Zerva's cross from the left flag.
"She's a beast," Galvano said of his leading scorer. "She scores, and that's what we brought her in for to score goals and that's what she's been doing."
Thirteen minutes later, Paige McGrath found the back of the net with a volley off a Meghan Carroll cross from the right flank, and Monroe never looked back with a 4-nil advantage.
In between, Zerva connected twice and the Tribunes improved to 4-1 on the season.
Zerva took a lead from Charlotte Collins-Blaize and weaved her way through a tangle of Erie defenders before beating the Kats goalkeeper with a blast inside the 18-yard box.
Three minutes later, the freshman from Kalamata, Greece buried a free kick from 25 yards.
"That couldn't have been better placed," Galvano noted. "That was upper 90. That was perfect. It was nice to see."
From there the Black and Gold put on an offensive display for the remainder of the first half rarely allowing the ball to come out of their offensive end as seven Tribunes pinged the ball from player to player while nine ECC defenders gave chase.
"For a Division III team they're a solid team," Galvano said of Erie CC. "There's a big gap between Division I teams and Division III teams. It always happens.
"Once we got our lead we coasted through. We got everyone in. Everyone got minutes and showed us what they needed to do."
Ariyo finished with three goals on the day. The freshman from Helsinki, Finland now has 11 tallies on the season.
"She's been doing it every game. That's all I can ask from here. She's strong. She's tough. She's technical and she's got a shot that's powerful."
Zerva added three assists to her two goals on the afternoon bringing her individual totals to three goals and four assists through the first five games.
Elin Eklund added a tally in the 81st minute.
Grace Kress scored Erie's lone goal in the 87th minute with a laser from 35 yards out.
Monroe hosts Jackson College on Saturday. A 1 p.m. kickoff is scheduled.