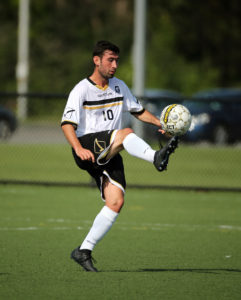 By PAUL GOTHAM
ROCHESTER, N.Y. — Nelson Cupello's Monroe Community College men's soccer team needed to put the past behind them. The Tribunes did just that Tuesday night.
Shouldering a three-game winless streak to start the season, a quartet of scorers found the back of the net as Monroe defeated the St. John Fisher (JV) Cardinals in non-league action at the Polisseni Track and Field Stadium.
"I hope it's a confidence builder for these guys. We have a tough weekend coming up with two games," Cupello said referring to contests this weekend at Massasoit and Ulster County Community Colleges. "I hope we can carry this momentum and confidence into Saturday's game especially. It will be a good test for us."
After dictating tempo for much of the early going, the Tribunes got on the scoreboard in the 26th minute when Jordan Sullivan took an Anthony Paris feed in the middle third and blew past the Fisher defense for a 1-nil lead.
Seven minutes later, Sulamane Sey pushed up from the backline and threaded a banana pass through a tangle of defenders to Matthew Englert for a second Tribune tally.
"That was great," Cupello said of the goal. "Sulamane is a very good midfielder, but we need some help on defense. We have been thin there, so we asked him to make the shift. It's almost like playing midfield as a right back. He's always in the attack and going forward. He can read and create."
The goal was Englert's first of the season.
"He's been hurt all summer," Cupello said of Englert who collected five goals in 2016. "He came into preseason hurt. He's not really at true form, probably playing at 60 percent. I left him out there a little longer that I wanted to just to work on his fitness. Hopefully he'll get healthy for us. He's the guy we're looking for to be our striker."
Monroe picked up some breathing room in the second half when Mewah Nyeayea and James Weh also notched their first goals of 2017.
"Again that's the confidence being built," Cupello noted. "Some of these guys haven't had it. We had some players do some great things. We are very pleased with some guys and how they performed."
Ryan Gray led Nyeayea for his tally in the 81st minute. Weh put the game on ice in the 89th minute.
Christopher Wadsworth made two saves including one on a point blank opportunity in the 85th minute.
"He wasn't that busy," Cupello said of his freshman goalkeeper. "But he performed when we needed him."
The game also saw the debut of Mwalizi Mutambo – a freshman from Lusaka, Zambia. The 5-foot-7 midfielder's arrival from Africa had been delayed by flight arrangements.
Monroe lost its season opener to Harford Community College, 2-1 in overtime. It was a game in which the Tribs had a pair of open opportunities in the extra periods to put the game away. Last Saturday, MCC allowed a goal in the 79th minute in a loss to ASA College.