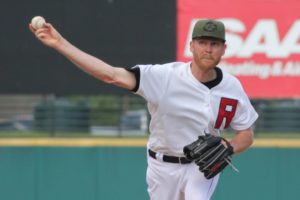 By PAUL GOTHAM
Lost in the mix of a rout the Rochester bullpen did on Thursday what they have done for most of the 2017 season: give the Red Wings balance.
And manager Mike Quade knows that if his club is going to clinch the a spot in the International League post-season, his staff will be the deciding factor.
"They've been good," Quade said of his bullpen after an 8-3 lost to IL North-leading Scranton/Wilkes-Barre. "We rely on them. We've relied on them all year. We've been pitching-based and that I'm sure is going to continue."
Thursday's effort was somewhat of a sacrificial offering.
Called upon to slow a Scranton/Wilkes-Barre onslaught, the trio of Luke Bard, Mason Melotakis and Jake Reed combined to allow one run on five hits over six innings of work.
Bard entered with seven runs in, the bases loaded and no outs in the fourth. After allowing a ground-rule double to the first batter he faced, the right-hander, making his sixth career Triple-A appearance, retired the next three batters he faced on a ground ball, strike out and routine fly ball.
Melotakis tossed two scoreless frames, and Reed worked an inning and a third without a run surrendered.
Most importantly the three relievers made it possible for Quade to get his staff ready for the final 11 games of the season.
"Those guys today kept (Michael) Tonkin out of the game and got us to tomorrow," Quade said. "It's funny when you watch a game and you say well they came in and it was 8-1 or whatever. Managers all over the planet will tell you how important that is to let those other guys sit down there."
Bard gave up a leadoff home run to Ji-Man Choi in the fifth before retiring the next three – two on strikes. He fanned two more in the sixth before leaving with the bases loaded.
"Bard will get the ball in key situations as well. It's just that his number came up today. Luke has stepped up and pitched some big innings for us even in key situations where we didn't have a win or where we were ahead comfortably, just to keep us in some kind of balance."
The Red Wings staff is tied for the league lead with Scranton/Wilkes-Barre in team ERA at 3.32. Both teams have made due with a continuous rollover. Scranton/Wilkes-Barre using 33 pitchers, Rochester – 41.
The Wings bullpen entered play Thursday with an ERA of 2.42 since May 1st. Rochester relievers have allowed one run in 14 of 22 games this month.
"They've been good," Quade noted. "The last two weeks I would say they've been taxed more so than they were previously. The big-league club has started to mix and match and do some things, so we've been a little thin at times."
Holding a three-game edge in the wild-card race, Rochester opens three-game set at home against thruway rival Buffalo, Friday night. After that the Wings have four at Scranton before closing the season at home with four versus Pawtucket.
"We move on and see what Buffalo has got to offer."