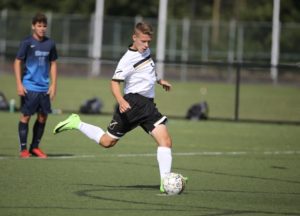 By PAUL GOTHAM
ROCHESTER, N.Y. — An early opener mixed with an inexperienced lineup and a scattering of injuries and Monroe Community College men's soccer coach was happy to take home a draw in Friday's season opener.
Anthony Paris (Greece Athena) converted a first half penalty kick, and the Tribunes held on for a 1-1 finish with the Harford Community College Fighting Owls on John L. DiMarco Field.
"I was pleased with how we played today," the 29th-year coach said. "We're so young. We started only two sophomores. This is an early game for us. We've never played this early. We only nine days to get ready and to get a young team to understand how to play."
Paris connected in the seventh minute on his fifth career goal to give Monroe the early 1-0 edge.
But Dougie McIndoe finished on a corner kick situation in the 31st minute to level the match. The freshman midfielder redirected a flick off the head of teammate William Wangu for his first goal of the season.
The Fighting Owls took the game to Monroe from there controlling the play into the middle stages of the second half when Rezon Ahmeti was dissected from the game with a red card.
"We had to stay with it," Paris said. "Even though they had a man down, it becomes a mental game. We had to keep playing, keep going at them."
The Tribunes, though, found their rhythm late and forced a direct kick that Andriy Demydiv (Webster Schroeder) deflected a shot just wide of frame. Paris had a chance in the final minute when his header off a direct kick was touched over the bar by Harford net minder Michael Nelson.
"That was an unbelievable save by their keeper," Paris stated. "I was just trying to get something on it off the free kick, and I did. He just had his hand in there."
The Tribunes had a pair of corner kicks late in the first overtime then a flurry of chances in second extra period including a Vincent Mauro (Bill Crothers) from the right flank that traveled through the eight-yard box untouched.
"We tried to put one in as best we can. We had a lot of space in the middle, try to get the ball to feet and turn go to goal. Just unlucky with our chances on goal."
Tribune keeper Kyle Bimek (Iona Catholic) finished with three saves on the day.
Monroe will host Mercer County Community College on Sunday. A noon kickoff is scheduled.
"We had four guys on the bench," Cupello said referring to injuries and off-the-field discipline. "Hopefully, we'll have three of those four back. We should be good to go. It will be a good contest for us on Sunday."