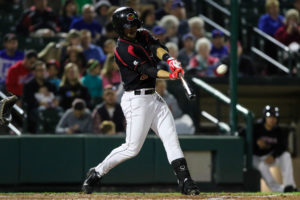 By KEVIN OKLOBZIJA
Derek Falvey, chief baseball officer for the Minnesota Twins, made his first visit to Frontier Field on Friday night.
He couldn't have liked some of the things he saw from the Rochester Red Wings, his Triple-A affiliate.
While starter Stephen Gonsalves and relievers Nik Turley and Michael Tonkin pitched well, the Wings couldn't get a clutch hit, they struck out 11 times, they didn't make the defensive play when they really needed to do so, and they had a runner picked off first in the 10th inning.
As a result, the Wings dropped a 2-1, 11-inning decision to the Buffalo Bisons in front of 9,564 fans and had their wild-card lead over the Lehigh Valley IronPigs sliced to two games with 10 to play. And since Lehigh Valley owns the tiebreaker, the lead is, in reality, just one game.
"We pitched it plenty good enough," Wings manager Mike Quade said, "we just didn't swing the bats."
Nor was right fielder Daniel Palka able to make what seemingly should have been a fairly routine throw to the plate on a fly to shallow right center in the top of the 11th inning.
With the bases loaded and one out, pinch-hitter Dwight Smith Jr. lofted a Yohan Pino pitch between Palka and just-promoted center fielder Levi Michael. As the ball was coming down, Michael Saunders, the runner on third, was tagging up.
There was a bit of confusion at first as to which outfielder would make the catch. While the center field usually takes charge, Michael, called up from Double-A Chattanooga on Thursday, may have deferred to elder statesman of the outfield.
Palka got to the ball in plenty of time to make the catch. In fact, he ended up getting to the spot too early. When he caught it, he was flat-footed and his momentum was stopped, if not going backwards a touch as he reached up for the ball.
As a result, he had very little on his throw to the plate and Michael Saunders easily scored.
Quade said the play wasn't all that easy, due to the height of the ball. "The way you teach it and the way it's done in a game is sometimes different," he said.
Of course, the Red Wings probably shouldn't have needed a strong throw in the 11th inning to save them. Their offense did far too little. They batted just twice with runners in scoring position, failing both times.
Their only run came in the sixth when Michael belted a 399-foot home run to left center. His first Triple-A homer came in his fifth at-bat.
"He crushed that ball," Quade said.
Michael had a chance to be the hero in the seventh but, with runners on second and third and two outs, Bisons third baseman Jason Leblebijian made a slick pick of a sharply hit ball and threw out Michael at first.
In the ninth with two outs and Matt Hague on first, Anthony Recker drove a ball to the gap in right center. Because the Bisons were in no-doubles defense, Saunders cut off the ball on one hop and fired to cut-off man Christian Lopes. Lopes in turn made a perfect throw home and Hague was out by two steps.
In the 10th, with one out, No. 9 hitter Engelb Vielma drew a walk. But on a pitch in the dirt, he wandered too far off first base and catcher Mike Ohlman made the scoop, fired to first and Vielma was out in a run-down.
Notes: Michael is probably with the Wings for the remainder of the season because ZacH Granite isn't expected back from the Twins. Granite went back to Minnesota after catcher Jason Castro went on the seven-day disabled list with a concussion. Proof that Granite isn't coming back: Michael is wearing his number (2).