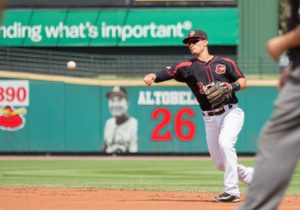 By PAUL GOTHAM
What is it they say about a sleeping giant?
Less than 18 hours after being held without a run for more than 13 innings, the Scranton/Wilkes-Barre RailRiders rapped 13 hits in an 8-3 win over the Rochester Red Wings in the final weekday matinee of the regular season at Frontier Field, Thursday.
The International League's most potent offense connected on five extra-base hits including three home runs.
Starlin Castro and Greg Bird, on MLB rehab stints, connected on back-to-back solo shots to start the fourth inning. By the time three outs were retired in the frame, the RailRiders sent 12 to the plate and pasted a seven-spot on the scoreboard.
"Not a good day," Red Wing manager Mike Quade said. "That's all right. We had such a good night last night, and it would have been great to follow up."
Scranton/Wilkes-Barre entered play leading the IL in runs per game (4.71), batting average (.271), slugging (.438), OPS (.771) and triples (33). The RailRiders are tied for first with a .333 on-base percentage and are third in home runs with 138. The IL-North leaders are tied for second with 247 doubles and fifth in stolen bases with 92.
Rochester starter Chris Heston looked good for three innings. The right-hander allowed a one-out single in the first before inducing an inning-ending-double play from the next batter. He issued a two-out walk in the second but set down the next batter and faced the minimum in the third.
An error on a routine fly ball was the seventh of eight straight Scranton hitters to reach in the fourth.
"He's a change speed/command guy," Quade said of his starter. "Just wound up getting a little bit too much of the plate. We could have made a defensive play that really could have helped.
"You take that one inning out, and you do okay…Just one of those days on the heels of all the excitement, was kind of a lousy day to have that kind of day."
The former major leaguer needed 22 pitches through the first two frames. Heston finished the game with 61 pitches – 26 for strikes.
Wings relievers Luke Bard, Mason Melotakis and Jake Reed combined to allow one run on five hits over six innings of work.
"The last two weeks they've been taxed," Quade said of his bullpen. "The big league club has started to mix and match and do some things, so we've been a little thin at times. Those guys again today got us to tomorrow."
Rochester came into the game 54-14 when scoring the first run. J.B. Shuck led the home third with a single and scored from first on an Anthony Recker double into the left field corner.
Rochester defeated Scranton/Wilkes-Barre 5-4 in the completion of a suspended game and followed with a 1-0 victory on Wednesday night.
Rochester falls to 75-56 with the loss. The Wings lead in the wild-card race slips to 3.5 (for now) with Lehigh Valley hosting Syracuse later tonight.
Playoff equation
Can the Wings go 6-5 in their remaining 11 games? Keep in mind the home nine has four games at Scranton/Wilkes-Barre next week (Monday-Thursday). There's a good chance Castro and Bird will have finished their rehab stints by then and returned to the New York Yankees. The Wings close their current homestand with three games against Buffalo and four at home to end the regular season against Pawtucket. If the Wings can go a game over .500 that over the remaining 11 days, Lehigh Valley will have to go 10-2 to catch Rochester. The IronPigs hit the road for seven games – three against Pawtucket and four versus Syracuse. Lehigh Valley ends the season with a four-game set against Scranton/Wilkes-Barre.
Familiar Battery
Heston and Recker share a place in history. Heston hurled the 17th no-hitter in San Francisco Giants history on June 10th, 2015. He hit three batters that day. One of the trio? You guessed it Anthony Recker who at that time played for the New York Mets. On a side note – Heston needed just 110 pitches in what was at the time his second career complete game in MLB.
On the move
Zack Granite will return to Minnesota. In his place, Levi Michael was transferred from Double-A Chattanooga. Granite earned his original major-league call-up on July 8th when he led the International League hitting .360 batting average. The centerfielder returned to Rochester on August 5th.
Section V Role Call
West Irondequoit high alum Cito Culver made his 41st start of the season at shortstop. The first-round pick of the New York Yankees in the 2010 MLB draft drove in a run with a sacrifice fly in the fourth – his 45th RBI of the season. Culver is one of eight former Section V athletes currently playing professional baseball at the minor league level including Chris Bostick (Aquinas), Ernie Clement (Brighton), Logan Harasta (Webster Thomas), Grant Heyman (Pittsford Sutherland), Steven Klimek (Greece Arcadia), Danny Mendick (Pittsford Mendon) and Jonathan Schwind (Hilton).