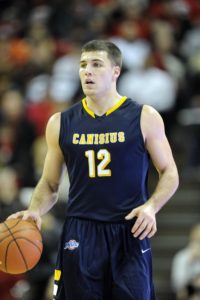 Courtesy of GoGriffs.com
Former Canisius guard Billy Baron '14 is one of 12 players named to the official USA Basketball roster for the 2017 FIBA Men's AmeriCup, USA Basketball announced Monday night. Baron, the 2014 MAAC Player of the Year, is the first former Golden Griffin to represent his home country in a FIBA event since Micheal Meeks '96 played for Team Canada in the 2002 FIBA World Championship.
The USA team features six players with NBA experience, 11 with NBA G League experience and seven with playing experience overseas. Players selected for the USA AmeriCup training camp include: Baron, Alec Brown (Windy City Bulls); Davis; Larry Drew II (Sioux Falls Skyforce); Reggie Hearn (Reno Bighorns); Darrun Hilliard (Detroit Pistons); Jonathan Holmes (Canton Charge); Kendall Marshall (Reno Bighorns); Xavier Munford (Greensboro Swarm); Marshall Plumlee(New York Knicks); Jameel Warney (Texas Legends); C.J. Williams (Texas Legends); and Reggie Williams (Oklahoma City Blue).
"All 17 guys that came to camp in Houston had a strong case that they could have made that they should have been selected, but unfortunately, we could only take 12," said Jeff Van Gundy, USA AmeriCup and former NBA head coach. "It was very, very difficult getting down to that number, but we feel very happy with the guys that we have selected. We feel we have positional versatility, we have a good balance between size and quickness, so it will be interesting for us to go to Uruguay and see what we can do."
A 2014 Associated Press All-America Honorable Mention selection, Baron closed out his career at Canisius as just the fourth Griff in the program's history to score more than 1,400 career points while dishing out 350-plus career assists. A two-time All-MAAC First Team honoree, he ended his career on Main Street ranked 11th in career scoring (1,405 points), fourth in career scoring average (20.7 points per game), fourth in career 3-point field goals (173), first in career free-throw percentage (85.9 percent) and ninth in career assists (351).
The USA training camp continues through Aug. 24 at the University of Houston's Guy V. Lewis Development Facility. The USA will also train Aug. 25-27 in Montevideo, Uruguay, and will participate in the AmeriCup Group C preliminary round games Aug. 28-30 in Montevideo.
The United States will open its AmeriCup Group C preliminary play on Aug. 28 facing Panama (3 p.m. EDT), then meet host Uruguay on Aug. 29 (5:30 p.m. EDT) and conclude preliminary play on Aug. 30 against Dominican Republic (3 p.m. EDT).
Argentina, as host, and the top finishing teams from Group A, Group B and Group C will advance to Córdoba, Argentina, to play in the Sept. 2 semifinals and the bronze and gold medal games on Sept. 3 (the full FIBA AmeriCup 2017 schedule is available to view here).
The FIBA AmeriCup 2017, considered the FIBA Americas zone championship, will feature 12 nations from North America, Central America, the Caribbean and South America.
In addition to the USA, Uruguay, Dominican Republic and Panama in Group C, Group A will play Aug. 25-27 in Medellín, Colombia, and includes the host country Colombia, as well as Brazil, Mexico and Puerto Rico; while Group B will compete Aug. 27-29 in Bahía Blanca, Argentina, and will consist of host country Argentina, as well as Canada, U.S. Virgin Islands and Venezuela.
AmeriCup History
A USA men's national team last participated in the FIBA Americas Championship in 2007, when the U.S. rumbled over its opposition in Las Vegas and finished 10-0 to win gold and capture one of the FIBA Americas zone's two qualifying berths for the 2008 Beijing Olympics.
Overall, USA Basketball officially has fielded teams in eight FIBA Americas Championships, winning six gold (2007, 2003, 1999, 1997, 1993 and 1992) and one silver medal (1989), while compiling a 60-10 win-loss record.