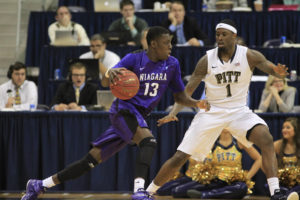 Courtesy of PurpleEagles.com
EDISON, N.J. – The Metro Atlantic Athletic Conference (MAAC) has released its Men's Basketball league schedule for the 2017-18 season, announced today by the conference.
Each institution will play an unbalanced 18-game league schedule, nine home games and nine away games, starting during the final week of December.
Niagara begins its 29th season in the MAAC hosting the two-time defending champions Iona Gaels on Friday, Dec. 29. The Purple Eagles will then host Rider on New Year's Eve.
NU opens its conference road schedule with visits to Siena (Jan. 5) and Marist (Jan. 7). Niagara returns home to face Monmouth on Jan. 12 and Saint Peter's on Jan. 14, before making a trip to Connecticut to play Quinnipiac on Jan. 18 and Fairfield on Jan. 20.
Niagara welcomes Manhattan in a mid-week contest on Wednesday, Jan. 24. NU starts a three-game road journey beginning against archrival Canisius on Jan. 27, followed by Saint Peter's on Feb. 2 and Monmouth on Feb. 4.
NU is back home on Feb. 8 to play Quinnipiac and on Feb. 10 against Fairfield. Niagara's final road trip weekend is at Iona on Feb. 16 and Manhattan on Feb. 18. The second Battle of the Bridge meeting with Canisius will be on Feb. 21 at the Gallagher Center, and the regular season finale is on Feb. 23against Marist.
The entire 2017-18 MAAC television broadcast schedule will be announced at a later date.
The MAAC season concludes with the 2018 MAAC Basketball Championships, March 1-5, at the Times Union Center in Albany, NY. The 2018 MAAC Championship title game takes place on Monday, March 5 at 7:00 p.m. and airs live on ESPN/2 with the winner earning the leagues' automatic bid to the NCAA Championship.
For ticket information, contact the Niagara Athletic Ticket Office at 716-286 TIXX, tickets@Niagara.edu or www.PurpleEagles.com/Tickets.