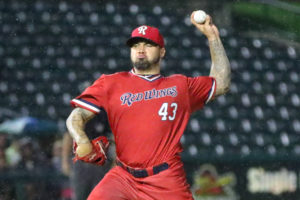 BY CHUCKIE MAGGIO
ROCHESTER, N.Y. — The Rochester Red Wings have started August with a .500 (5-5) record, and that's about how well they've played this month; average, but staying afloat.
The Lehigh Valley IronPigs haven't been so fortunate. After taking two out of three at Rochester to start the month, Lehigh Valley has lost five straight games before beating Norfolk 11-5 Wednesday night. The Wings have taken advantage, finding themselves a game back of the IronPigs for the International League's wild card spot after a 12-3 win over the Columbus Clippers on Wednesday.
Thanks to designated hitter Matt Hague being responsible for seven runs, Daniel Palka collecting three hits -including a home run- before being ejected and three Wings (Niko Goodrum, ByungHo Park and Tommy Field) driving in two runs each, Rochester fans can continue doing some serious scoreboard watching.
The Wings and 'Pigs don't play each other again in the regular season, so keeping track of the out-of-town scores will have to do.
"You always (pay attention)," Wings manager Mike Quade said. "People always say 'No, we've got to take care of ourself.' Well that's true, we lose ten in a row, it's not going to matter a whole lot what they do. So you've gotta take care of business and we know, unlike last year, we're not gonna see them for five games at the end of the season, so there's no more heads-up stuff with them.
"So yeah, I pay 90 percent of the attention to this club and ten percent to them. Maybe eight percent to them and two percent to (division-leading) Scranton. Stranger things have happened. We've got a lot of time left (eight games) with Scranton."
The offense was a beautiful sight for Quade's club after a rocky start from Hector Santiago, who is on another rehab stint before he returns to the Minnesota Twins.
Santiago, who had a fantastic outing on Aug. 3 against Lehigh Valley, couldn't find his command against the Clippers, resulting in a tumultuous 4.1 innings. Of the 22 batters he faced, he walked six and hit another. The two hits he allowed both went for RBI, with his last pitch of the game soaring over the left field fence for a two-run shot by Richie Shaffer. Santiago threw just 52 of his 98 pitches for strikes.
The Newark, N.J. native denied feeling any effects from the back pain that landed him on the disabled list; he just didn't have the stuff.
"I felt pretty good actually," he said. "Just one of those days where (I) couldn't find it. I made some good pitches to get out of some innings, walked the bases loaded once and got out of it. So I think overall, you can see the key moments, to come back and be able to put guys away right there, but still, I put too many guys on… that's never good."
Alex Wimmers relieved Santiago and picked up the victory, his fourth of the season. Clippers lefty Shawn Morimando, who pitched as long and walked as many as Santiago but allowed eight runs on nine hits, was saddled with the loss; he is 10-8.
Hague led the charge in providing enough run support to erase the tough time on the hill. His bases-loaded double in the fifth brought all three guys home and stretched a two-run game to a five-run advantage Rochester would not look back from.
"I think just trying to stay with my plan (worked well)," Hague said. "Last couple games, I've kinda been getting myself out a lot and I try and just stay focused, get some good pitches and see what happens."
Keeping composed, for the most part, was a key to victory as well. Palka was ejected in the fifth, after a hit no less, by home plate umpire Shane Livensparger, who took over the dish for injured umpire Scott Costello. Clippers first baseman Nellie Rodriguez was tossed in the ninth after disputing a call himself.
Whether you chalk the heave-hos up to the playoff race, heat or questionable ball-strike calls, Rochester has to cope quickly; the umpiring crew is staying in town for the Norfolk series that starts on Thursday.
"I think that's just tough for (Livensparger) to come in there, head on a swivel," Hague said.
"I think it was pretty even (for) both sides, so we've just gotta stay composed and play baseball."