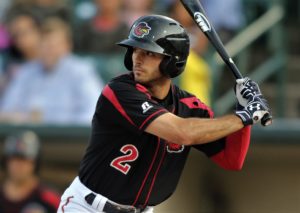 By KEVIN OKLOBZIJA
When Zack Granite was called up to the Minnesota Twins a month ago, he was maybe the hottest hitter in baseball.
Between June 2 and July 5, the speedy center fielder hit a robust .456 (62-for-136) for the Rochester Red Wings and raised his average from .237 to an International League-best .365.
How hot was he? He hit 37 points higher than any other player in full-season minor-league baseball. That's 10 leagues and 120 teams worth of players in full-season ball.
Indeed, there were nights when it seemed he'd never make an out. He reached safely in the 29 games between June 1 and June 29, had a 17-game hit-streak along the way and even went eight consecutive games with at least two hits. That's Rod Carew-esque.
But since coming back to the Wings from his first stint in Major League Baseball — a 32-day stay during which he hit .250 with two doubles, seven RBIs and six runs in 19 games — Granite's Max Bat hasn't been quite as potent. He was just 1-for-12 in three games since Saturday.
"Granny hasn't been on fire like he was before he went up," Wings manager Mike Quade said, "but nobody was going to put the ball in play like he was. He was as hot as anyone could be."
He picked the perfect time to get the bat going on Tuesday night, however. His grand slam in the fourth inning broke a 2-2 tie and propelled the Red Wings to a 6-2 victory over the Columbus Clippers at Frontier Field.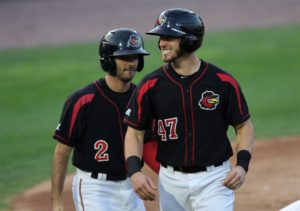 The victory, combined with Lehigh Valley's 7-6 loss at home to Norfolk, pulled the Wings within a game of the IronPigs in the race for the IL's wild-card playoff spot with 26 games to play.
"It's been a little different, it's been a little bit of an adjustment; the strike zone's a little bigger," Granite said of the slow re-start with the Wings.
The ball park wasn't big enough to hold his fly ball off right-hander Jarrett Grube, though. Granite connected on a 2-2 pitch, the eighth pitch of the at-bat, and drove it into the Wings' bullpen behind the fence in right.
It was his fifth home run of the season, 10th of his five-year pro career — and first grand slam. His last slam?
"Little League?" he said, not quite sure himself. "All my home runs in pro ball have been solo homers; most have been leading off."
Obviously this homer was especially meaningful, beyond giving the Wings' and starter Nik Turley a four-run cushion.
"It's the best feeling in baseball, it's the greatest," Granite said. "There's something special about a grand slam."
Don't take this for Granite.

Rock. Solid.

The Granite Man Can.

Gran(d)ite Slam. pic.twitter.com/OcSMzWiQ2Q

— Rochester Plates (@RocRedWings) August 9, 2017
The night didn't start well for the Wings. Turley surrendered two runs before the sixth batter of the game had stepped to the plate.
But Daniel Palka delivered a clutch two-out, two-run double the third inning to tie the score — and take his manager off the hook.
A moment earlier, Quade made the wrong decision to send Tommy Field home from second on Mitch Garver's single to center. Center fielder Michael Martinez came up throwing and gunned down Field at the plate by steps.
"It's always nice when the third-base coach makes a mistake and his club picks you up," Quade said.
The Wings and Clippers conclude the three-game series with a 1:35 matinee on Wednesday. Hector Santiago starts on the mound for the Wings against Canandaigua native Shawn Morimando.