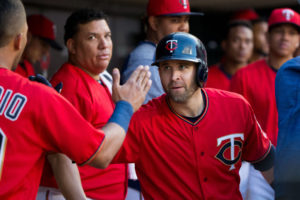 New York Yankees (57-51) 2
Cleveland Indians (59-48) 7
CLEVELAND– Michael Brantley went 2-for-4 with two runs scored and a run batted in as the Indians handed the Yankees their fourth straight loss. Earning a win in his third consecutive outing for Cleveland, Trevor Bauer tossed seven innings of one run ball to go along with seven strikeouts. For Jaime Garcia, this was a Yankees debut to forget as he was knocked out of the game after four-and-two-thirds innings and six runs (five earned) charged to him. Headlining a struggling New York offense, Brett Gardner and Todd Frazier had two hits and an RBI apiece.
Chicago White Sox (41-66) 2
Boston Red Sox (61-49) 3
Final in 11 innings 
BOSTON– Mitch Moreland launched a walk-off home run to give the Red Sox a victory over the White Sox. Boston's starter, Eduardo Rodriguez, lasted six innings while surrendering two runs on four hits and two bases on balls. Pitching for the White Sox, Carlos Rodon ate up seven-and-two-thirds innings and was charged two runs on six hits to go along with his eleven strikeouts. At the dish, Nicky Delmonico went 3-for-5 with two runs batted in.
Detroit Tigers (51-57) 5
Baltimore Orioles (53-56) 2
BALTIMORE– Justin Upton hit a go-ahead grand slam in the eighth inning to lead the Tigers to their fourth consecutive victory. On the mound, Justin Verlander went seven innings for Detroit, allowing two runs on six hits while fanning ten batters. Saddled with the no-decision, Baltimore's Kevin Gausman pitched just as well as Verlander by giving up one run on three hits and striking out eight in seven innings. Providing the offense for the Orioles were Manny Machado and Tim Beckham who each went deep with solo shots.
Milwaukee Brewers (58-53) 2
Tampa Bay Rays (57-54) 0
TAMPA BAY– Orlando Arcia went 3-for-3 with an RBI and two runs scored as the Brewers snapped the Rays' three-game win streak. Making his major league debut, Brandon Woodruff tossed six-and-one-third shutout innings for Milwaukee while setting down six on strikes. In six innings for the Rays, Jake Faria yielded one run on four hits and struck out nine.
Toronto Blue Jays (51-58) 7
Houston Astros (70-39) 16
HOUSTON– Tyler White went 4-for-5 with three runs scored and five runs batted in as the Astros used a nine run fourth inning to defeat the Blue Jays. In what was a game highlighted by offense, the pitching for both teams struggled. Pitching for Houston, Brad Peacock lasted six innings and was chased for seven runs on nine hits, three of which were home runs. Opposing him, Cesar Valdez could not make it out of the fourth inning for Toronto after being tagged for six runs on six hits and two walks. Kendrys Morales led the Blue Jays' lineup with three hits, two runs scored and two RBI.
Oakland Athletics (48-62) 6
Los Angeles Angels (55-55) 8
LOS ANGELES– Mike Trout had himself a three hit game and drove in a run as the Angels completed the come from behind victory against the A's. Troy Scribner started for Los Angeles and allowed five runs (two earned) on two hits and four walks in four innings. His counterpart, Jharel Cotton lasted five innings and gave up four runs (three earned) on seven hits and a walk. Matt Chapman led all Oakland hitters by going 2-for-4 with two runs scored and three RBI.
Texas Rangers (52-57) 4
Minnesota Twins (52-55) 8
MINNEAPOLIS– Brian Dozier and Robbie Grossman combined to hit three home runs and drive in five runs as the Twins were victorious for the third time in their last eleven games. On the mound, Bartolo Colon threw a complete game for Minnesota, letting up four runs on nine hits to go along with five strikeouts. Texas' Martin Perez was saddled with the loss after getting tagged for seven runs on nine hits in four-and-two-thirds innings.
Seattle Mariners (56-55) 5
Kansas City Royals (56-52) 2
KANSAS CITY– Jarrod Dyson went 2-for-4 with a run scored, an RBI and a stolen base as the Mariners moved back to a game over .500 for the season. Pitcher, James Paxton, put himself in Seattle's history book by tying the franchise record with seven consecutive winning decisions. For the game, his stat line consisted of six innings pitched while surrendering two runs on four hits and fanning seven batters. Opposing Paxton on the hill, Jason Hammel yielded three runs on six hits through six-and-one-third innings for the Royals.
Los Angeles Dodgers (77-30) 6
New York Mets (49-58) 0
NEW YORK– Chris Taylor homered and scored three times for the second consecutive night as the Dodgers shutout the Mets in the series opener. Yu Darvish was stellar in his Los Angeles team debut, going seven innings and allowing just three hits while eliminating ten batters on strikes. In five innings for the Mets, Jacob DeGrom gave up three runs on five hits and three walks to go along with eight strikeouts.
Miami Marlins (51-56) 3
Atlanta Braves (50-58) 5
ATLANTA– Nick Markakis launched a three run home run to power the Braves over their division foe, the Marlins. Earning a win for the first time in his past seven starts, RA Dickey ate up six innings for Atlanta, yielding three runs on three hits. Getting the nod for Miami, Adam Conley surrendered four runs (three earned) and five hits in five-and-one-third innings. At the plate, Giancarlo Stanton had his eighth multi-homer game of the season and moved into a tie for most home runs in the major leagues.
Philadelphia Phillies (39-68) 3
Colorado Rockies (63-47) 4
DENVER– DJ LeMahieu hit a go-ahead RBI single late in the game to push the Rockies past the Phillies. This came after Kyle Freeland was pulled out of his outing for Colorado just three batters in. Chris Rusin was the first of five relief pitchers used and in three-and-one-third innings of work, the lefty let up four hits while striking out five. For the Phillies, Vincent Velasquez lasted five innings and was charged with two runs. He also struggled with command issues as he walked six batters during his outing. Nick Williams led all Philadelphia hitters with three base knocks, a run scored and an RBI.
Washington Nationals (64-43) 4
Chicago Cubs (57-51) 2
CHICAGO– Daniel Murphy went 3-for-4 with two home runs and three RBI to lead the Nationals to a series opening win. Backed by Murphy's bat, Tanner Roark pitched six-and-one-third innings, allowing two runs on five hits to go along with four strikeouts. The only blemish came when Javier Baez went deep in the seventh inning, knocking Roark out of the game. Pitching for Chicago, Kyle Hendricks gave up three runs on five hits and two walks through seven innings.
St. Louis Cardinals (53-56) 2
Cincinnati Reds (45-64) 3
CINCINNATI– Joey Votto hit safely for the ninth consecutive game and drove in two runs to keep the Reds undefeated at home (5-0) against the Cardinals this season. Making a spot start for the injured Scott Feldman, Cincinnati's Asher Wojciechowski let up one run on three hits in five innings. Opposing him was Mike Leake who tried to help his own cause by hitting an RBI infield single. That would not be enough for the former Red though as he surrendered three runs on eight hits in six innings.
San Diego Padres (48-60) 6
Pittsburgh Pirates (53-56) 10
PITTSBURGH– Josh Harrison went 3-for-5 with three RBI as the Pirates used a six run seventh inning to push past the Padres. Getting the nod for Pittsburgh, Ivan Nova allowed four runs (one earned) on six hits in six innings pitched. Opposing him, San Diego's Travis Wood put up similar numbers as he gave up four runs, also on six hits, but through five innings. Leading the Padres' offense was Carlos Asuaje who went 2-for-4 with two runs and two RBI.
Arizona Diamondbacks (63-46) 2
San Francisco Giants (42-69) 1
SAN FRANCISCO– Paul Goldschmidt went 3-for-4 with two runs batted in to propel the Diamondbacks past the Giants in the series opener. On the hill, Arizona's Anthony Banda tossed six innings of one-run ball to go with seven strikeouts. Falling on the losing end of the pitcher's duel, Madison Bumgarner pitched seven innings and yielded two runs on five hits while also setting down seven on strikes.