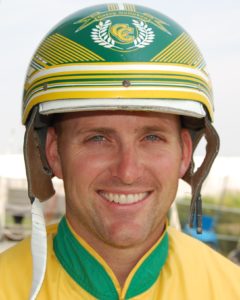 By KEVIN OKLOBZIJA
The top two 3-year-old New York-bred pacers and three of harness racing's top drivers will compete in sire stakes action on Sunday afternoon at Batavia Downs Gaming.
In A Single Bound, the sire stakes series points and earnings leader, and FunkNWaffles, who sits No. 2 in points and earnings, will be overwhelming favorites in their respective divisions. Each race has a purse of $39,900.
Corey Callahan will drive FunkNWaffles while Brett Miller and Marcus Miller also will be in town for the afternoon.
In A Single Bound drew the rail in race No. 2 for trainer Monica Krist and driver Billy Dobson. The son of Roll With Joe should return to his winning ways after his five-race win streak was snapped on July 22 by FunkNWaffles in a sire stakes event at Saratoga.
Pointtomygranson may very well be his chief competition, but the son of American Ideal drew post 7 for trainer Chris Ryder and driver Brett Miller.
Pointtomygranson set a Batavia track record for 2-year-old pacing colts in September when he drew clear of FunkNWaffles in the stretch to win a sire stakes event in 1:53.2.
FunkNWaffles headlines the fourth race, where he is the 3/5 morning-line favorite. The son of American Ideal is 3-for-3 in NYSS events this year (earnings of $58,700) and 3-for-7 overall ($222,699).
Trained by John Butenschoen, FunkNWaffles has posted back-to-back victories as the 1-to-20 favorite in NYSS action. That's after running second behind superstar 3-year-old Fear the Dragon in the $500,000 Hempt at Pocono Downs on July 1.
The third race also is a sire stakes event and features Serious Major, a gelding trained by Ron Burke and driven by Jim Morrill Jr., and Chip Walther, who rallied stoutly to win a NYSS race at Yonkers on July 22 for Marcus Miller and his father Erv, the trainer and part owner.
Kevin O's Spot Play Hot Plays
Race 5: No. 4 Out of Texas (7-2 morning line). Should relish the drop in class, especially after two sizzling miles at Vernon Downs.
Race 6: No. 2 UF Rockin Dragon (5-2 morning line). Ships in for Mark Ford from Pocono Downs where he faced competition that was two seconds faster than anything in this field. He'll lose only if he falls down.
Race 9: No. 7 Criminal Element (4-1 morning line). Second start for the Montis, trainer Darrin and driver Drew, and this time they drop him to the bottom claiming level. Should have a chance to run down the front-running huge favorite Pleasing Form.
* * * * * * *
Recapping Friday's Spot Play Hot Plays
Race 4: Nippy. Went off at 7/2 and was dreadful. Maybe worse than dreadful.
Race 8: Striker Ace. Enjoyed the perfect pocket trip and zoomed up the passing lane to victory at 5/2.
Race 9: Arnold. Yet another break so it's back to the qualifiers for him.
* * * * * * *
Recapping Saturday's SPHPs
Race 6: Rebel Soldier. Bet down to favoritism (6/5 from the morning line of 5-1), I got the bang-bang photo finish with P L Hellcat that I expected. P L Hellcat, however, held on for the win.
Race 8: No Real Surprise (5/2, up from ML of 2-1) finished second but wasn't good enough to defeat the 2/5 favorite Bred to Race.