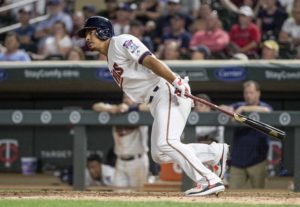 New York Yankees (47-44) 2
Minnesota Twins (47-45) 4
MINNEAPOLIS– Eduardo Escobar hit a pinch hit, go-ahead single in the eighth inning as the Twins handed the Yankees their second straight loss. Eddie Rosario drove in two runs and was one of seven starters to get a base hit. Getting the nod for Minnesota, Adalberto Mejia gave up one run and five hits in five-and-one-third innings. Countering him, Bryan Mitchell pitched just as well for the Yankees by going five innings and allowing two runs (one earned) on six hits. At the plate, Garrett Cooper had a three-hit game for the first time in his career to go along with an RBI and run scored.
Toronto Blue Jays (43-49) 4
Boston Red Sox (52-42) 3
BOSTON– Steve Pearce went 2-for-3 including the tie-breaking single in the eighth to halt the Blue Jays' skid at two games. Marcus Stroman tossed six-and-two-thirds innings, surrendering three runs (zero earned) on five hits and three walks. Down 3-0 during the seventh, Mookie Betts and Dustin Pedroia each contributed an RBI base hit to tie the game. Making his first start off of the disabled list for the Red Sox, Eduardo Rodriguez went five-and-one-third innings and yielded three runs on six hits and four walks. He also set down eight on strikes.
Texas Rangers (45-47) 1
Baltimore Orioles (43-49) 3
BALTIMORE– Seth Smith hit a go-ahead home run in the seventh inning to propel the Orioles to their first win since before the All Star break. On the hill, Chris Tillman had one of his best starts of the season, giving up just one run and two hits over six innings. The lone run for the Rangers came in the second inning when Jonathon Lucroy hit an RBI double. Andrew Cashner was dealt the loss after allowing three runs on six hits in six-and-two-thirds innings.
Tampa Bay Rays (50-44) 3
Oakland Athletics (42-51) 2
OAKLAND– Evan Longoria drove in two runs and reached base three times as the Rays won for the third time in four games. After having one of his worst outings of the season, Jake Odorizzi bounced back with a stellar performance for Tampa Bay. Over seven innings, he yielded just one hit and a walk while setting down five on strikes. Khris Davis provided the damage off Odorizzi as he launched his 26th home run of the season. For the A's, Daniel Gossett struggled to keep the ball in the park yet again as all of his runs given up came off the long ball. He pitched seven innings and was tagged for three runs and seven hits.
Seattle Mariners (47-47) 9
Houston Astros (62-31) 7
HOUSTON– Kyle Seager and Danny Valencia hit back-to-back solo shots in the tenth inning to lead the Mariners to their fifth consecutive victory. The two corner infielders finished the game with a combined four runs scored, five hits and four RBI. Ariel Miranda started for Seattle, surrendering five runs on six hits in five-and-two-thirds innings. Two of those runs came off the bat of Carlos Beltran who took him deep in the sixth. Over four-and-two-thirds innings, Lance McCullers Jr., gave up five runs (four earned) on six hits and three base on balls.
Detroit Tigers (42-49) 10
Kansas City Royals (45-46) 2
KANSAS CITY– Victor Martinez went 3-for-4 with two runs scored and three RBI as the Tigers crushed the Royals in their series opener. Also contributing for Detroit were Mikie Mahtook and Nick Castellanos who had multi-hit games and two RBI apiece. On the hill, Jordan Zimmermann threw 97 pitches with a whopping 79 of them for strikes. He also tossed six-and-two-thirds innings of one run ball while fanning seven. Kansas City starter, Jason Vargas, would not have the same success though. Unable to make it out of the third inning, the American League wins leader was lit up for six runs on seven hits and four walks.
Cleveland Indians (48-43) 5
San Francisco Giants (35-59) 3
SAN FRANCISCO– Francisco Lindor went 3-for-5 with a pair of RBI as the Indians ended their four-game losing streak. On the hill, Josh Tomlin was able to earn the win by going seven-and-one-third innings and allowing three runs on six hits. Matt Moore went seven innings for the Giants and gave up four runs (two earned) on six hits while punching out five. Gorkys Hernandez finished 2-for-3 with a run scored and RBI.
San Diego Padres (40-52) 6
Colorado Rockies (54-41) 9
COLORADO– Charlie Blackmon went 3-for-4 including a lead-off home run to go along with two runs scored as the Rockies have now won back to back games. Along with Blackmon, Trevor Story added three RBI with two of them coming in a five run third inning. Backed by the run support, German Marquez yielded three runs in six-and-two-thirds innings while fanning a career high nine batters. Luis Perdomo struggled for the Padres, going two-and-one-third innings and getting lit up for seven runs (five earned) on six hits and three walks. Carlos Asuaje paced San Diego's offense with three hits and a run batted in.
Milwaukee Brewers (52-43) 2
Pittsburgh Pirates (45-48) 4
PITTSBURGH– Gregory Polanco went 4-for-4 at the plate including a pair of doubles and RBI to give the Pirates back-to-back wins. On the mound, Chad Kuhl pitched five-and-two-thirds innings of two run ball on four hits while striking out seven. For the Brewers, Brent Suter allowed two runs on seven hits in four-and-two-thirds innings. At the plate, Travis Shaw contributed two hits and scored both of Milwaukee's runs.
Chicago Cubs (47-45) 4
Atlanta Braves (45-46) 3
ATLANTA– Anthony Rizzo homered in his third consecutive game as the Cubs have now won four straight. Coming off of the shortest start in his career, Jon Lester, gave up only three hits and one run over seven innings. At the plate, the southpaw even hit a double and stole second. Unfortunately for Julio Teheran, he was on the wrong end of the pitcher's duel. In six innings, the righty allowed two runs on four walks and five hits. Brandon Phillips led the Braves hitters with two hits, a run scored and one RBI.
St. Louis Cardinals (45-47) 6
New York Mets (41-49) 3
NEW YORK– Adam Wainwright had himself a day in both the batter's box and on the mound as he won his fourth consecutive start for the Cardinals. In five-and-two-thirds innings pitched, he yielded three runs (two earned) on six hits. At the dish, the 11 year veteran hit an RBI double during the team's six run sixth inning. Also contributing for St. Louis was Tommy Pham who drove in three runs. Opposing Wainwright, Zack Wheeler struggled as he lost to the Cardinals for the second time in ten days. In five-and-one-third innings, he surrendered four runs on seven hits and four walks.
Washington Nationals (56-36) 6
Cincinnati Reds (39-53) 1
CINCINNATI– Ryan Zimmerman became the new Nationals' career home run leader (235) after connecting for a solo shot as Washington earned their ninth win in their past eleven games. At the dish, Bryce Harper also launched a three run homer during the team's five run first inning. However, Stephen Strasburg would not need much run support. He allowed just one run on four hits while fanning eleven in seven innings. The same could not be said for Reds' pitcher, Scott Feldman, though. Lasting only one inning due to knee stiffness, the righty was tagged for five runs and a walk.
Philadelphia Phillies (30-61) 5
Miami Marlins (42-49) 6
MIAMI– Dee Gordon lined a walk-off single in the tenth inning to help the Marlins end their three-game losing streak. For the sixth time this season, Giancarlo Stanton went deep twice for Miami and also drove in three. Not having his best outing on the hill, Tom Koehler did enough to keep his team in the game as he surrendered four runs on four hits in five innings. Getting the nod for the Phillies, Jerad Eickhoff went six innings while letting up five runs on six hits and fanning eight batters. Nick Williams was one of four different Philadelphia players to have an RBI.