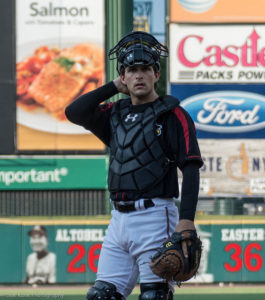 BY CHUCKIE MAGGIO
ROCHESTER, N.Y. — The catcher position is the most complex job in professional baseball. The knights in shining (or dark) armor have to worry about the cat-and-mouse game of calling a game, working with ten or more pitchers in a given week and earning those 27 outs, however they can get them.
The best catchers of the past decade or so (Brian McCann, the Molina brothers, Buster Posey, Pudge Rodriguez, etc.) have had one thing in common: they earned more strikes for their pitchers by pitch-framing. With a turn of the glove or shift of the body, potential balls turn into strikes, potential losses turn into wins and, if they're lucky, a 144 or 162-game season turns into a postseason appearance.
Red Wings catcher John Ryan Murphy hopes he and fellow backstop Mitch Garver can frame the Wings to the playoffs this year. If a Baseball Prospectus website stat is any indication, Rochester is in good hands.
Through the first two months of the 2017 season, Murphy was getting 3.1 percent more called strikes than the average catcher, according to the site's formula. That was the best mark in professional baseball, at any level.
John Ryan Murphy has been the best framing catcher in professional baseball so far this year. Getting 3.1% more called strikes than average. pic.twitter.com/oyJekrnGQA

— Grant Spears (@SpearsGrantM) May 30, 2017
Murphy's reaction upon learning the stat? "Whoa."
"I think the numbers have to be, in some way, a little bit skewed, just because there's a lot of elements involved with making that number," he said. "There's the pitcher's quality of strikes or near-strikes thrown, the umpire has a lot to do with it, but as a catcher you're always training to give the umpire the best look possible on whatever pitch is given.
"There definitely has to be some truth to it, and I will certainly take it, but there's a lot of elements that go into how that's created, in my opinion."
The Rochester pitching staff is first in the International League in earned run average (3.38) and has issued the least amount of walks (201, or just over two a game). There are plenty of traditional baseball fans who rail against analytics, but as imperfect as the stat may be, these are tangible effects.
"(Murphy and Garver) work really hard with the pitchers, and that's one of the things that wins games," Wings manager Mike Quade said. "You have to have a lot of communication, you have to be in-sync with your pitchers and catchers, and we work on that the whole season. I don't know too much about that stat, but we've got a couple guys who our pitchers like working with, and that's a huge thing."
You can develop any tricks you want, but becoming a good professional pitch framer all comes down to repetition.
VIEW MORE SUE KANE PHOTOS HERE.
"A lot of practice- that's really the only thing you can say," Murphy said. "The more balls you see, receive, in practice or in-game, the more opportunity that's given to you to make them a strike. I think over time you work at it and understand what angles, with your body, you can create to give the umpire a better look or more of a strike look. There's a lot of things that go into it, but I would say just the repetition of the amount of balls that we receive, over time you learn how to get some strikes."
The 26-year-old Murphy was the New York Yankees' second round pick in 2009. He played parts of three seasons in the Bronx before being traded to the Twins for Aaron Hicks in November 2015.
Playing with former All-Stars like Derek Jeter, Alex Rodriguez, Robinson Cano, Alfonso Soriano, Ichiro Suzuki and Mark Teixeira is a great way to learn. Catching future Hall of Famers like C.C. Sabathia and Mariano Rivera (Murphy caught Rivera's final pitch) isn't bad either.
"I could probably talk for hours about how things that I've learned from those guys. But number one, I always say, is the type of people that all those guys were, the superstars over there. You see the person before the player, so that's the number one thing.
"Number two, just the work ethic they bring every day. It's very easy to see why they are who they are and what they've accomplished in the game. They're the same (guys) every day regardless of if they're 0-for-4 or 4-for-4, if they win the game or lose the game. Those are definitely some things that I learned from my time over there."
At 46-38, the Red Wings are only 6.5 games out of first place in the International League North Division. At 43-41, the Twins are 1.5 games out of first place in the American League Central and one game out of an AL Wild Card spot. Not a bad organization to be in at all right now, and for Murphy, someone with 115 games of major league experience, the prospect of a Twins call-up sometime this season is an exciting one.
"Once you've gotten a taste of what the big leagues are like, and you're not in the big leagues, I think it's really easy to have motivation to get the heck out of here and get back up there," Murphy said. "I don't know if it's any added motivation, but they are playing well, so if that opportunity comes it's gonna be a fun time to get up there and help the team."