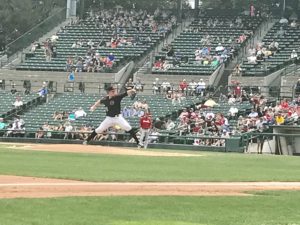 BY CHUCKIE MAGGIO
ROCHESTER, N.Y. — If you want another example of why time of game shouldn't be baseball's focus, look at Pawtucket's 1-0 win over Rochester in front of 4,239 fans at Frontier Field on Thursday afternoon.
The game went quickly, finishing up in two hours and 25 minutes, but there was little memorable action. The game's only run occurred on an error by a pitcher who threw an absolute gem.
Where's the fun in that?
The Red Sox one-upped the Red Wings in each of the scoreboard's main components; one run to zero, five hits to four, zero errors to Rochester's one.
Not much offense, but at least the pitchers were dealing. Hector Velazquez got the start and win for Pawtucket, striking out seven and scattering four hits in seven innings of work. The 28-year-old from Mexico hasn't been saddled with a loss since the Red Wings defeated the Sox on May 13. Ben Taylor got the save after two perfect innings, with two strikeouts along the way.
The hard-luck losers had a lights-out performance on the hill themselves. Tim Melville, who started the season in the independent Atlantic League, went eight innings and allowed just four hits, striking out six. Drew Rucinski recorded two strikeouts and allowed just one hit in the ninth frame.
The difference in the game ended up being one errant throw to first, an apt representation of a game where there was little room for error.
"I fortunately got a ground ball right back to me and should've just fielded it, but it went right through the legs," Melville said. "I was gonna make a really cool play on it, but didn't stay down on the throw and I just took the ball with me and pulled it and pulled (first baseman Kennys) Vargas a little bit out of his reach… sometimes you make those plays and sometimes you don't.
"That's kind of how the game goes, though. It's a deciding factor a lot of times for a lot of outings and it just happened today; I didn't make that play. Tomorrow I can make that play; I know what I did wrong, so just gonna keep going on."
Overall, however, the 27-year-old Alexandria, Va. native had a performance to be proud of. He has now allowed five or fewer hits and three or fewer runs in each of his five starts for Rochester. His lineup failed to back him up with any run support (Zack Granite and Mitch Garver going a surprising 0-for-7 in the leadoff and second slots didn't help), but that's baseball.
"(The outing) went very well," Melville said. "Unfortunately I got the loss, but I went the deepest I've done all year, so I think it's a culmination of the things I've been working on. It felt really good to finally achieve and check off a few goals I've been working on."