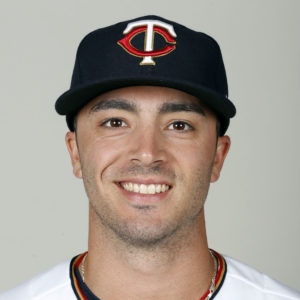 Courtesy of RedWingsBaseball.com
Yohan Pino was three outs away from a no-hitter in game one and Rochester scored five runs in the 2nd inning of game two as the Red Wings and Pawtucket Red Sox split a doubleheader Saturday night at McCoy Stadium.
Zack Granite reached base five times between the two games, finishing 4-for-7 with a walk, a run scored and three stolen bases. He has at least one hit in 16 straight games and has recorded multiple hits in 13 of the last 15.
Game 1
Pino (0-4) cruised through the first six innings while facing the minimum. The only blemishes to that point were a fielding error with no outs in the 2nd (erased by a pick off) and a leadoff walk in the 3rd (erased by a caught stealing). Rusney Castillo hit the first pitch of the 7th into center to break up the no-hit bid.
Despite Pino's brillance on the mound, the Red Wings wasted chance after chance and led 1-0, thanks to a J.B. Shuck RBI groundout in the 5th. The Wings finished 0-for-9 with runners in scoring position and left seven men on base.
The 1-0 lead held until the 7th. Pino got a double play to erase Castillo and Rochester was one out away from a shutout. Steve Selsky then blooped a single into center and Bryce Brentz just missed a walk-off homer but settled for a game-tying double.
After the Red Wings left the go-ahead run at second base to end the top half against Noe Ramirez (3-2), Jantzen Witte hit a walk-off home run with two outs in the 8th off Pino to give Pawtucket a 2-1 win.
Game 2
The second game could not have started any different than game one. Granite and Matt Haguedrew walks against former Wing Marcus Walden (6-3) in the 1st inning and both scored to give the Red Wings (30-33) a 2-0 lead.
The lead lasted four batters as Bryce Brentz hit a grand slam off Matt Tracy (2-0) before an out was recorded in the bottom of the 1st and the PawSox (34-30) led 4-2.
Rochester responded by scoring five runs in the 2nd to regain the lead, 7-4. Bengie Gonzalezsingled and stole second base with one out, though replays indicate he may have been out. Engelb Vielma then doubled to make it 4-3. Shuck and Tommy Field followed with a two-out, two-run home run apiece.
Pawtucket's Dan Butler capped the scoring with a solo home run in the 5th.
D.J. Baxendale fired a 1-2-3 6th and Kam Mickolio tossed a perfect 7th to secure his first save in affiliated ball since 2011.
Next Home Game: The Red Wings open a promo-packed seven game homestand Monday, June 19 vs. Buffalo (Blue Jays) at 7:05 p.m.