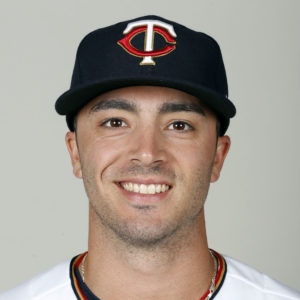 By CHUCKIE MAGGIO
ROCHESTER, N.Y. — Red Wings manager Mike Quade estimates that his hitters spend more time in the batting cages than he spends in his apartment.
Perhaps that dedication to the craft is what makes Rochester's inconsistency at the plate so frustrating. After scoring eight runs on Tuesday night, the Wings reverted to form on Wednesday afternoon, registering just four hits in a 5-1 loss to the Scranton/Wilkes-Barre RailRiders in front of 6,932 fans at Frontier Field.
Rochester has scored three or fewer runs in 19 of its 33 games since May 1, including four of its first seven games in June. In those games, the team is 7-12.
David Hurlbut recorded 11 strikeouts, the second Red Wings career high in that category in as many days, but for the third time in his last five outings, he only received one run of support. The run the Wings got was unearned, as RailRiders shortstop Gleyber Torres committed a throwing error on what would have been the third out of the inning, allowing Matt Hague to reach base and Zack Granite to score.
"What was that, Groundhog Day?" Quade said, referencing the 1993 Bill Murray classic. "Look, at this point it's entirely about offense. Unfortunately, we didn't get enough done to back a really, really nice start from Hurlbut, right on the heels of a really good start from Turley last night.
"Bullpen was fine, some runs late, but you're battling uphill constantly… to me it's that simple, we've gotta continue to work to find out how to score runs and to get some people going. I think I've said all along, I expect to see some of these guys perform and swing the bats better, but to this point they haven't. You don't play the games on paper."
Leadoff hitter Zack Granite has been the bright spot, extending his streak of multi-hit games to six with a single and triple off Scranton/Wilkes-Barre starter Caleb Smith. Many of Rochester's big hitters, however, are mired in dismal slumps.
Niko Goodrum, Wednesday's three-hitter, has two hits in his last 21 at bats. ByungHo Park, who batted fifth, has not had a hit since May 31, going 0-for-20 with 14 strikeouts to start June. Daniel Palka is still sidelined with a fractured finger, so the team is missing some power before it even hits the field.
"The one thing about it is, the thing that's frustrating is we've got our hitting coordinator in here, and (hitting coach) Chad (Allen)'s work ethic is unbelievable," Quade remarked. "And the kids, they're working like crazy. Now, we unfortunately haven't been on the field as much as we'd like because of the weather, but that's got nothing to do with it.
"I'm thrilled to death with the way we've been going about our business as far as work, but we need to see some results, and I'll show up here tomorrow hoping that the results are better."
Until the Wings start scoring some runs, they can take solace in their pitching staff, which for the last two nights has had some unhittable moments. Hurlbut noted that the RailRiders were very aggressive with the fastball early in the count, and that about half of his first pitches were off-speed pitches. Many of his punchouts were on sliders, and he called his eight-hit, three-run performance a "small victory" in a long season.
"It felt really good," he said. "Some days, physically, you don't feel your best but you still go out there and compete. Today I felt one of my best days of the year, and it was nice to see it translate into some success. Obviously not getting the win does dampen that a little bit, and it's a team game, we do want to succeed at the end of the day.
"Regardless of how the offense does, you always want to try and give your team a chance to succeed, put your team in a position to do well. Didn't work out today, but some of those things are out of my control, so I just try to control what I can to give my team a chance to win."
Nik Turley struck out 15 in the Red Wings 8-1 victory over Scranton/Wilkes-Barre on Tuesday.
The Red Wings will host the Syracuse Chiefs Thursday in the first game of a four-game series. First pitch is scheduled for 7:05 p.m.