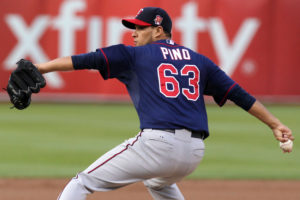 By CHUCKIE MAGGIO
ROCHESTER, N.Y. — Scranton/Wilkes-Barre RailRiders shortstop Gleyber Torres was named the No. 5 prospect in minor league baseball for 2017, according to Baseball America. Yankees infield instructor Joe Espada told NJ.com last week that he thinks Torres could handle third base in the majors soon.
As the Rochester Red Wings Twitter account posted in jest during Monday night's game, "Apparently, he's a big deal."
He was a big deal on Monday. The rain that soaked the ballpark in the afternoon didn't ruin what turned out to be a precipitation-free night, but Torres ruined fellow Venezuelan Yohan Pino's start for the Wings at every turn.
Pino entered the fourth inning with an early no-hit bid, but Torres ended that with a one-out single. The 33-year-old had a shutout through 5.1 innings, with just two hits and two walks against, until his next pitch to Torres, which was promptly sent over the wall in left-center field for a three-run home run. Pino's second Triple-A start was over after that pitch as he was sent to the showers with a 3-2 deficit.
No-hitter, shutout and chance of being the winning pitcher all over, because of one man. Torres's final line in the 6-3 RailRiders win: 3-for-3, a walk and four runs batted in.
"I do all sorts of work before the (series), and I've heard of the kid and heard a lot about the kid," Red Wings manager Mike Quade said. "I was anxious to see him play short and hit and do all the things I'd heard about.
"So yeah, we'll have to find a way to get him out along with the rest of them."
The RailRiders managed just seven hits, and Torres was the only multi-hit earner in the visiting dugout, so he was the clear difference in the game.
"Pino was really good," Quade said. "Hard to believe he could be pitching as well as he did, and three hitters into the sixth inning all of a sudden be down 3-2. It happens, but he pitched well on the road, he's a good addition and he's gonna be fine in the rotation.
"I'm not smart enough to take a guy with a one-hit shutout out of the game; he had 82 (pitches) starting the inning, I believe."
Winning pitcher Domingo German was also valuable in relief. The natural starter entered the game from the bullpen with one out in the third inning after Bryan Mitchell, who was on a pitch count, exited. German allowed just one run on five hits in 5.2 frames of work, striking out seven. He gave way to Ben Heller, who pitched a scoreless ninth to earn the save.
The Red Wings scored 589 runs last year, good for sixth in the 14-team International League. They have scored just 206 through the first 52 games of this season, ranking third-to-last. The offensive inefficiency puts every pitching mistake under a microscope, because more often than not, Rochester has been unable to rally.
"The offense, we're still scraping and scrapping and doing what we can do," Quade said. "We saw some very good pitching tonight, for sure, and you're gonna run into guys like that… I had the feel it was gonna be one of those nights where (the score is) 4-3, 3-2, something like that…
"Just a tough finish all-around; there's not much you can say about it. It looked great after five innings, and that's why you get 27 outs and play nine innings."
The series continues Tuesday with a 7:05 p.m. start at Frontier Field.