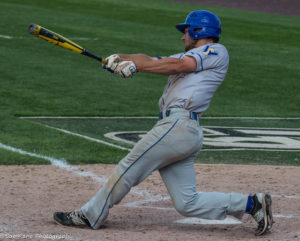 Tanner Cooper led Canandaigua to a second straight Class A1 title. Phil Ferranti and Shane Marshall paced a Webster Schroeder squad which won 19 straight and climbed to the top of the state rankings.  Casey Radka and Batavia took the Monroe County Division 4 title, and Kyle Straube forgot how to lose. Together, the quintet earned Monroe County Divisional Player of the Year honors.
Cooper struck out 59 over 38 innings of work during the regular season. The Stony Brook commit won five games and put together a microscopic 0.93 ERA. He saved his best for the post-season where the right-hander tossed 20 consecutive shutout innings before finally allowing a run in Canandaigua's victory over Greece Arcadia in the A1 finals. Cooper also drove in 17 runs for the Braves.
Ferranti hit clean up, and Marshall led off for Schroeder which won 19 straight and ascended to the top spot in the NYS Class AA poll. Ferranti finished with a batting average of .600 for the Warriors with 43 RBI and 22 runs. The Monroe CC commit collected eight doubles and five triples. Marshall hit .461 and scored 37 runs. The Binghamton commit swiped 15 bases and collected 15 extra-base hits including seven doubles, four triples and four home runs.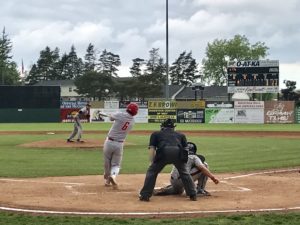 Radka went 7-0 during the regular season. The senior hurler fanned 46 over 48 innings for a Batavia club which finished 8-0 in Division 4 and claimed a No. 2 seed in Class A2. He finished with an ERA of 1.31 and a 1.04 WHIP. At the plate he hit .333 with 14 RBI and 18 runs scored.
Straube finished 5-0 in the regular season including a complete-game win over eventual Division 1 Co-Champ and Class AA finalist Rush-Henrietta. The senior right-hander held the Royal Comets to a one run on three hits. Straube boasted an ERA of 1.50 for a Penfield club which climbed to No. 16 in the NYS Class AA poll.  
Fellow Canandaigua Braves Matthew Carbary, Brian Hoffman and Seth Vigneri joined Cooper on the Division 3 first team. Isaac Nelson represented Brighton on the first team. Brockport's Gordon Fisher, Mike Jemele and Cole Penders nabbed a first-teams spots. Sutherland's Max Carver and Jack Zielinkski earned first-team nods as did Mendon's George Gines and Jared Petrichick.
Schroeder's Connor Bisaillon, Ben Mulhall and Josh Simons joined Ferranti and Marshall on Division 2 First Team. Justin Augustine and Thomas Finnerty represented Greece Arcadia. Irondequoit's AJ Gartland earned first team as did Spencerport's Aidan Eldridge along with Webster Thomas's Ryan Hill, Ryan Mason and Devin Mulcahy.
Chandler Baker, AJ Marcello, Hunter Mazur and Jerry Reinhart accompanied Radka on the first team along with Nick Goodrich-Leach (Eastridge), Mandel Green (Eastridge), Carson Correll (HF-L), Pat Bigham (Odyssey) and Jeff Wilson (Odyssey).
Fellow Penfield Patriots Jack Burke, Justin Harman, Ryan Kalbfus, Logan Martella-Tasick and Noah Wulforst nabbed first-team honors along with Straube. Fairport's Evan Newkirk, Mike Sabatine and Tyler Smith earned first team as did Rush-Henrietta's Zach Harter, Mitch Hoffower and Chris Reed.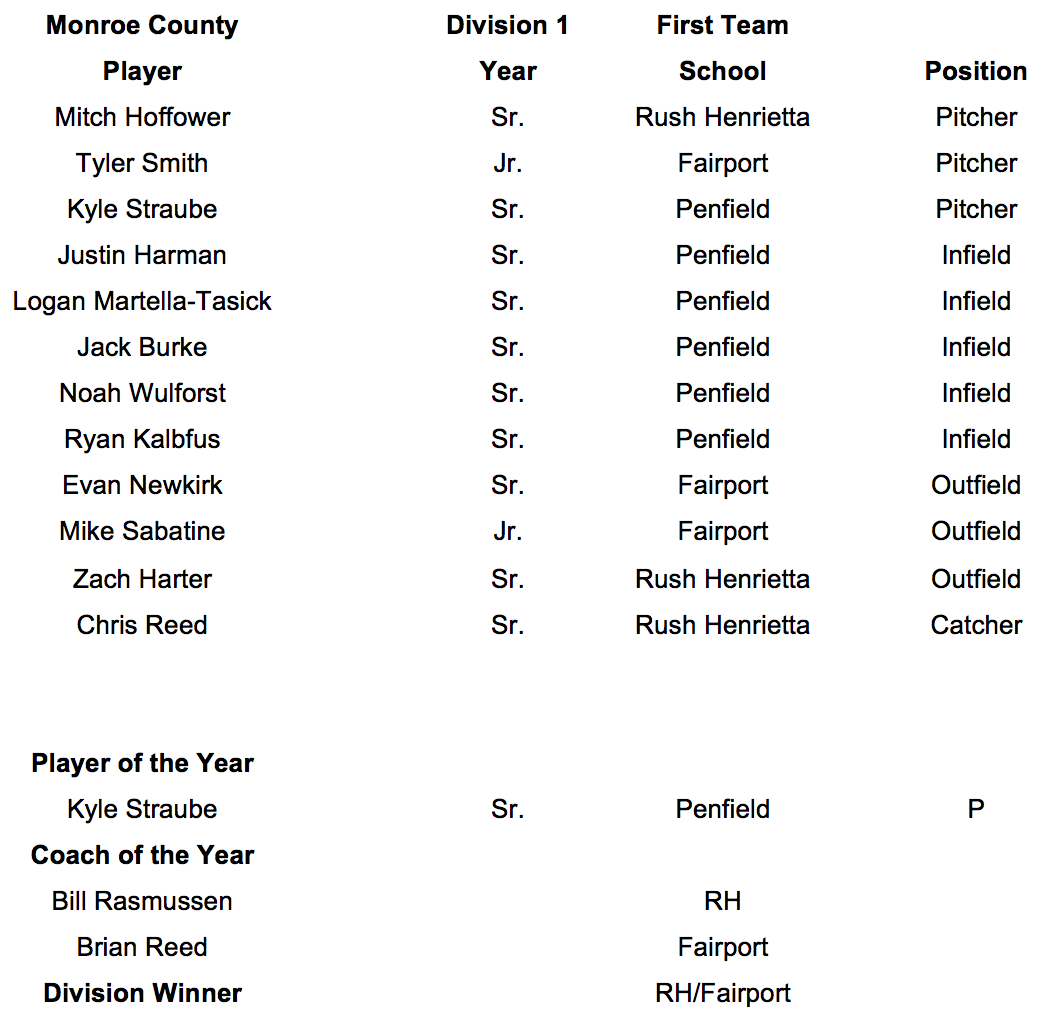 VIEW MORE SUE KANE PHOTOS HERE.