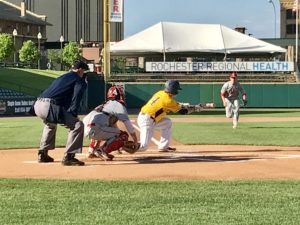 By PAUL GOTHAM
ROCHESTER, N.Y. — Will Marsh showed a knack for timing, and the Pittsford Sutherland Knights moved on to the Far West Regional.
Marsh collected three hits and sparked a first-inning outburst while Jack Zielinski went the distance as Sutherland defeated the Canandaigua Braves, 9-3 in the Section Five Class A regional qualifier at Frontier Field, Tuesday night.
Marsh finished 3-for-4 including a two-run single in a seven-run first inning.
"I'm really happy for him," first-year coach Brandon DeRosa said. "He's a player who has hit the ball hard all year. He's had a lot of line drives that just didn't fall. Tonight was a good time for him to come through."
The Sutherland clean-up hitter plated Nate Richardson and Layton Cummings with the first two runs of the game, and Sutherland went on to send 12 to the plate in the stanza.
"It was a fastball," Marsh explained. "I was just sitting on it. Trying to drive it hard. That's what I've been doing all year. Got a good piece on it and broke the game open."
The offensive surge came against a team which had allowed just one run in three previous sectional games.
"I was stunned," DeRosa said. "I did not expect that. But once we got that lead the mindset was to get the next run. I'm happy for this team. These guys have worked hard all year. I'm really proud of them."
Zielinski made the first-inning effort stick. The senior left-hander allowed three runs (two earned) over seven innings. He struck out two and walked one.
"That team is a good fastball hitting team," DeRosa said of Canandaigua. "Jack did a great job of pitching backwards. We couldn't give them fastballs in fastball counts. Jack hit his spots throughout the game."
He retired the last 10 batters he faced.
"I wasn't really getting much on any of the corners," Zielinski said. "It was a pretty tight strike zone, so I was just letting them put it in play, let the defense do their work. Worked pretty well for us."
Richardson got the first inning going for Sutherland with a bloop single down the right field line. Cummings dropped a sacrifice bunt but reached on an error. Zielinski walked to load the bases, and Marsh delivered from there.
One out later, Jack Bergin walked, and Sam Kistler singled to left to score a run. Connor Fitzsimmons and Charlie Pellegrini worked back-to-back bases loaded walks, and Cummings capped the inning when he reached on an error and two more runs came around to score.
"We wanted to get going early and jump on them," DeRosa said. "Guys did a good job of cashing in at bats."
Zielinski and Marsh led the fourth with back-to-back singles and both eventually crossed the plate for a 9-3 Knights advantage.
"We were excited," Marsh said. "We're seniors and don't want to lose. We were in A2 this year and wanted to prove that we're the better team."
Richardson finished 2-for-4 on the night. Zielinksi was 1-for-2 with two walks.  Bergin and Pellegrini were both 1-for-2 with a base on balls.
Canandaigua's Michael Sculli walked, stole a base and scored a run in the second.
Matthew Caraby led the Braves fourth with a base hit. One out later, Brian Hoffman singled through the left side of the infield. A wild pitch scored one run, and freshman Dylan McKenzie brought in a another with a base hit through the right side.
Canandaigua finished 18-4 on the season. Of their four setbacks only two came to Section Five – both at the hands of Sutherland.
The Knights improved to 15-9 on the season and move on to play Olean (VI) in the Far West Regional. A 7 p.m. first pitch is scheduled at Frontier Field on Saturday.
OTHER SECTION FIVE GAMES
Class C Qualifier
Avon 6 Le Roy 1
Avon will play Maple Grove (VI) in the Far West Regional.
Class D Qualifier
Lima Christian 6 Lyndonville 5
Lima Christian advances to play North Collins (VI).