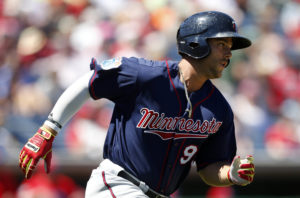 By CHUCKIE MAGGIO
ROCHESTER, N.Y. — Daniel Palka, and his torrid offensive stretch, will have to take an unscheduled break.
The Red Wings outfielder suffered a left finger fracture while swinging on Saturday, when he extended his hit streak to 10 games. The team said he is out indefinitely.
"I was very concerned about (the finger)," Wings manager Mike Quade said after Monday's win. "Not good, but we'll hope he's a quick healer. I know he'll work to do what he can do to get that thing healthy and be ready as soon as possible, but it's always a blow to get injured, and he had really put together a nice week or two here recently.
"That's the nature of the beast. You've gotta deal with it and move on."
Palka is hitting .261 with eight home runs and 22 runs batted in this season. He hit .341 with three homers and nine RBI in the 10 games before his injury, with five hits in the two games against Indianapolis.