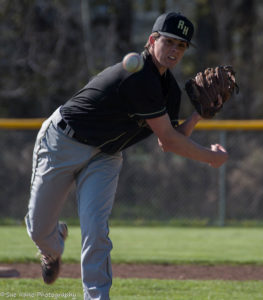 By PAUL GOTHAM
For the past 22 years the baseball facility on Batavia's Denio Street has been known as Dwyer Stadium. For one night, the friendly confines became the Barber Shop.
Despite allowing six of seven lead-off batters to reach base, senior starter Hunter Barber didn't flinch, and the No. 6 seed Rush-Henrietta Royal Comets advanced to the Section Five Class AA final for the second time in three years with a resounding 5-0 victory over the No. 2 seed Fairport Red Raiders on Wednesday night.
Barber struck out 10 and scattered six hits in his second impressive outing during the post-season.
"He did everything that you could have possibly asked a starting pitcher to do in a tournament situation," Rush-Henrietta head coach Bill Rasmussen said. "That's to go deep and to put us into good position for the next one."
Locating his fastball and mixing in a hard-biting curveball, the right-hander stranded nine runners facing the minimum in just one inning.
"Sometimes he has a tendency to overthrow and when he does that his ball flattens out and he loses control," Rasmussen explained. "When he throws free and easy, his fastball runs and his curveball bites. We saw that all night."
Fairport's Mike Sabatine reached on an error to lead the first. Barber responded by striking out the side. The 6-foot-1, 175 pound starter left runners on the corners in the third when he got a ground ball for the final out. He was at his best in the sixth when he gave up a lead off base hit and followed with a pair of punch outs and a weak infield pop up to end the inning.
Number six Rush-Henrietta shuts out Fairport 5-0. @PickinSplinters https://t.co/51m7h3Nv8A pic.twitter.com/DOz1YmagQf

— Tim Irving (@TimIrvingSports) May 25, 2017
Barber also got the defensive support when he needed it. Ray Specht gunned down a runner at third from left field to start the second. Battery mate Aaron Shoemaker erased a would-be base stealer in the fourth, and Lucas Haefner made a series of sparkling plays at third base.
"We needed every one of those plays today," Rasmussen said. "We knew that was going to be the case and that's absolutely what it came down to. We had to play like that to beat that team."
VIEW MORE SUE KANE PHOTOS HERE.
"I took it step by step and pitch by pitch," Barber said. "If they got a runner on, it didn't really bother me. You just got to keep throwing strikes and let the fielders make the plays."
R-H got all the runs it needed when they sent seven to the plate in the third inning. Shoemaker started the rally with a one-out single up the middle. Nine-hole batter Justin Varney fouled off six full-count pitches from Fairport starter Trevor Povlock before putting runners on the corners with a base hit to right.
Casimer Sobaszek loaded the bases with a walk, and Haefner got the Royal Comets on the scoreboard with a two-run single through the left side of the infield.
But it was Varney's at bat which gave R-H momentum.
"I was just trying to fight everything off that I could," the 5-foot-8 second baseman said. "I was behind in the count. He was throwing everything fastballs. I was just trying to put it out in play somehow and I just happened to put it over the second baseman's head."
"What it comes down to is guys stepping up in positions and not being afraid to fail," Rasmussen stated. "Going out and making plays as opposed to trying not to make mistakes. That's what we did."
Mitch Hoffower doubled the lead in the fifth. The senior, who tossed a complete game in Monday's win over third-seeded Penfield, drilled a two-out triple to the base of the wall in right field to score a pair.
"I struck out in a previous at bat, so I was ready," said Hoffower who connected on a curve ball out over the plate. "I was able to get a good swing on it."
Batting eighth and ninth in the order, Shoemaker and Varney combined for four hits and reached base six times. The pair scored four runs, and Shoemaker capped a two-out rally in the seventh with an RBI single to center.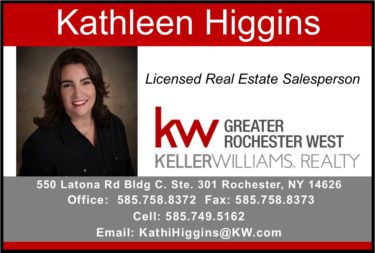 Haefner finished 2-for-4. Ray Specht also collected two hits in four at bats.
Fairport's Jake Schuler finished 2-for-3. Omar Rosa collected two walks.
Sabatine and Tyler Smith led the Fairport seventh with back-to-back base hits. Haefner came on in relief and slammed the door shut. The right-hander got a fielder's choice and ended the game with a pair of strike outs.
Barber tossed six and a third in Rush-Henrietta's 3-2 walk-off victory over  No. 11 seed Churchville-Chili in the opening round.
Rush-Henrietta (16-7) and Fairport (16-5) split a pair of games during the season. R-H won 6-3 on May 3rd. Fairport, ranked No. 19 in the most recent NYS Class AA poll, took a 4-3 decision the following day. The teams finished tied atop Monroe County Division-1.
"It's almost become a cliché for us, and it's just something we kinda default to, but we talk about staying in control and staying under control," Rasmussen stated. "When things are difficult we have to stay under control, and we have to maintain control of the game on the mound, in the field and at the plate. I don't think I've ever had a team do a better job of that then we did today."
The Red Raiders were the second straight state-ranked team the Royal Comets defeated. Penfield was No. 19 going into Monday's quarter-final game.
The Royal Comets will meet No. 5 seed McQuaid in Saturday's championship game. It is a rematch of the 2015 final – a game which McQuaid won. A 10:30 am first pitch is scheduled at Frontier Field.