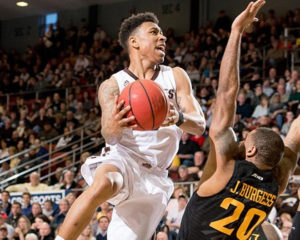 Courtesy of GoBonnies.com
Jaylen Adams announced that he has withdrawn from consideration for the upcoming NBA Draft. The two-time All-Conference point guard will remain at St. Bonaventure for his senior season.
In April, Adams placed his name into consideration for the 2017 NBA Draft but did not retain an agent. He participated in workouts for three NBA teams over the last five weeks.
"I learned a lot, mentally most of all," Adams said of the workout process. "Playing in front of coaches and general managers with other top guys definitely helped me mature and understand how serious (professional basketball) is. I learned what I need to get better at. (Declaring for the draft) was the best decision for me and helped me to grow. I'm excited about next season here (at St. Bonaventure)."
"Obviously, we are really excited to have Jay back for his senior season," said St. Bonaventure head coach Mark Schmidt. "He is our floor leader and one of the best point guards in the country. It was beneficial for him to go through the evaluation process and I know he will be a better player for it."
Last year as a junior, Adams was the second-leading scorer in the Atlantic 10 Conference at 20.6 points per game. He also led the A-10 and ranked seventh nationally in assists at 6.5 per game, and his 195 assists are the second-best single season total in program history. The Baltimore, Md., native finished second in the A-10 and 22nd nationally in steals (2.2). He set a school record with 206 free throws, and he made 77 three-pointers. Adams recorded four point-assist double-doubles.
After the 2016-17 season, Adams was named to the National Association of Basketball Coaches All-District 4 team and the U.S. Basketball Writers Association All-District II team. He earned First Team All-Conference selections from the A-10's head coaches in both 2015-16 and 2016-17.
Adams has helped the Bonnies to back-to-back 20-win seasons. Over his three seasons, Adams has scored 1,377 points.
Adams' decision gives St. Bonaventure four returning starters from last year's 20-12 club. Adams will again team with classmates Matt Mobley and Idris Taqqee in the backcourt. Mobley was a third team All-Conference selection last year. Power forward Josh Ayeni, a rising sophomore, also returns to the starting lineup.