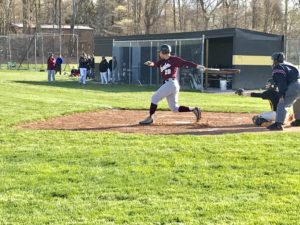 CLASS A1
Spencerport 4 Greece Athena 3
Joe Carroll finished 2-for-3 with two RBI including the go-ahead run in the fifth. Carroll plated Ryan Frazer with a two-out single to center, and Spencerport advanced to play No. 2 seed Canandaigua in the Class A1 quarter-finals. Chris Carroll reached on a fielder's choice and later in the inning scored the eventual game-winning run. Nicholas Bellone allowed three runs (two earned) on 10 hits over a complete-game effort. The senior struck out seven and walked one. Chris Carroll went 2-for-3 with two runs scored. Joshua Brase doubled and scored a run. Nick Denison was 2-for-3. Nick Ruta led the seventh for Athena with a base hit and scored on a two-out Casey Saucke double, but the Trojans stranded the tying run. Ruta finished 3-for-4 with an RBI and two runs scored. Saucke was 2-for-4.
Pittsford-Mendon 5 Eastridge 3
Sam Cestra went the distance and allowed three runs on nine hits as Mendon advanced to meet top-seeded East High in the A1 quarter-finals. Cestra struck out six, walked one and limited Eastridge to three hits over the last four innings. Billy Dalton doubled home the go-ahead run in the fourth as the Vikings erased a one-run deficit. Jared Petrichick finished 3-for-4 with an RBI and run scored. Cam Yonda was 2-for-4 with a double and run scored.  Bryan Rafoth gave Eastridge a 3-2 edge with a two-out solo shot in the fourth. Ryan Derleth was 2-for-4 with an RBI for the Lancers. John Montana added two hits.
Class A2
Aquinas 21 Wayne 3
Vinny Mason tossed five innings of one-hit ball, and the No. 8 seed Aquinas Li'l Irish advanced to meet top-seed SOTA. READ MORE.
Greece Olympia 32 Wilson-Magnet 0
Ryan Bubel finished 3-for-3 with five walks, two runs scored and three RBI. Olympia will face No. 2 seed in Friday's quarter-final round.
Honeoye Falls-Lima 19 NE Douglass 2
No. 6 seed HF-L advances to meet No. 3 seed Pittsford-Sutherland.
Class C1
Gananda 12 Red Creek 2
Jayden Castrechini allowed one run and struck out six over 4.1 innings for the win. Cody Hill went 2-for-4 with a double and three RBI. Tim McClare was 3-for-4 with two RBI, and Jourdan Plaisted finished 2-for-4 with an RBI. No. 2 seed Gananda will host No. 7 seed Holley in Friday's quarterfinals.
Sodus 2 Canisteo 0
Jared Wren struck out a dozen and hurled a no-hitter, and No. 4 seed Sodus advanced to meet the winner of No. 5 Letchworth and No. 12 seed Marcus Whitman. Daniel Johnson was 2-for-2 with a double, two stolen bases and an RBI.
Class C2
East Rochester 5 Warsaw 3
Sophomore shortstop Corwyn Cleveland went 2-for-3 with three RBI and a walk to help the No. 2 seed East Rochester Bombers advance to meet No. 7 seed Red Jacket in Friday's quarter-final.