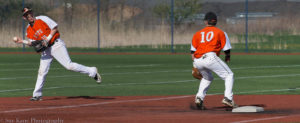 Victor 6 Hilton 5
Senior Blake Hildman finished 3-for-4 on the day including a 2-out, 2-run walk-off double as Victor erased a two-run deficit in the bottom of the seventh inning and improved to 7-7 on the season and 5-4 in Monroe County Division-1 play. Trailing 5-3, Owen Delforte led the Victor seventh with a single. One out later Chris Varone and Tommy Ryan connected on back-to-back hits to load the bases. Nate Hampson brought in a run with a walk and set the stage for Hildman who drove in Varone and Ryan. Nick Boyer picked up his first varsity win with two-thirds of an inning in relief. The junior entered in the top of the seventh with runners on first and second and one out. He retired the two batters he faced with a strike out and fly out. Varone, Delforte and Santino Rosso all had 2 hits. Hilton's Ryan Schmitt and Drew Herrnecker had three hits apiece.
Churchville-Chili 13 Irondequoit 10 (9 innings)
Churchville-Chili rallied from a 10-3 deficit after five and went on to defeat Irondequoit in nine innings. Trailing 10-5 heading to the top of the seventh, sophomore Jake Carroll led off the inning with a walk after a 13-pitch at bat. From there, the Saints took advantage of several defensive miscues to score five runs and send the game to extra innings. Senior Christian Montanez delivered a 2-out 2-run double to deep left center to to give C-C a 12-10 lead in the ninth. Junior Mike Mule followed with an RBI single for the final margin. Sophomore Wes Colluci struck out two and walked one over three scoreless innings of relief to pick up his first varsity win. Montanez came on to pitch the bottom of ninth striking out the side for the the save. AJ Gartland collected four hits and a walk to lead Irondequoit.
Penfield 2 Webster Thomas 1
Ryan Kalbfus went the distance and allowed one on three hits as Penfield won its fifth straight game. Kalbfus struck out six and walked two. Logan Martella-Tasick delivered the go ahead run with an RBI single to score Jack Taylor in the fourth. Noah Wulforst led the Penfield first with a triple and came home to score on a Jack Burke sacrifice fly. Thomas tied the score in the second on consecutive singles from Ryan Mason, Ben Hufland and Joe Paul. Mason fanned three, walked two and allowed four hits over six innings of work for Thomas.
McQuaid 4 Rush-Henrietta 2 (game 1)
McQuaid 4 Rush-Henrietta 1 (game 2)
Junior Erik Johnson and sophomore Hunter Walsh notched victories for McQuaid. READ MORE.
Fairport 13 Gates Chili 0
Omar Rosa connected on a grand slam in the first inning and Fairport improved to 10-4 with its third win in four games. Rosa also walked and scored two runs. Evan Newkirk finished 3-for-3 with two RBI and a run scored. Nick Turturro was 2-for-2 with two runs scored. The senior also struck out the side in order in the seventh. Tyler Smith struck out a batter and allowed two hits over three innings for the win.  Smith went 1-for-1 with two walks.
Batavia 10 Eastridge 2
AJ Marcello struck out five over five innings of work and drove in two runs as Batavia improved to 9-2 and 6-0 in Monroe County Division-4. Hunter Mazur finished 2-for-4 with three RBI and tossed an inning of relief. Casey Radka was 2-for-3 with an RBI. Jerry Reinhart went 3-for-4 with three runs scored and two RBI. Mandel Green paced Eastridge going 4-for-4 with two doubles. Brady Cromlech walked twice and scored a run for the Lancers.
Pittsford Sutherland 8 Brighton 3 (game 1)
Brighton 2 Pittsford Sutherland 0 (game 2)
Connor Fitzsimmons paced the Sutherland in game one going 2-for-2 with a three-run home run and a double. Max Carver pitched a complete game and struck out nine in the win. Trent Wasserman pitched six innings of shut-out ball to earn the win in the night cap. DJ Staszak was 2-for-4 with a double.
Pittsford-Mendon 6 Honeoye Falls-Lima 3
Jared Petrichick allowed three runs on nine hits, struck out nine and walked one to pick up the win. The junior also finished had a double, two RBI and a run scored. Cam Yonda finished 2-for-3 with an RBI. Billy Dalton had a hit and drove in two runs. HF-L's Owen VanNewkirk was 3-for-4 with a run scored. Carson Correll and Jack Tvrdik had two hits apiece.
Brockport 4 Greece Arcadia 1
Frank Lauricella struck out two and scattered three hits over five shutout innings for the win. Ashton Scott collected two hits, two RBI and two runs scored. Cole Penders went 3-for-4 with a run scored. Michael Jamele was 2-for-4 with a double and a run scored. Arcadia's Isaac Yorkey doubled and scored.
SEE MORE SUE KANE PHOTOS HERE.
Greece Odyssey 6 Greece Olympia 4
Gananda 13 Clyde Savannah 1
Gananda used a nine-run third inning to take a commanding lead. The Panthers had 11 hits in the game. Jourdan Plaisted went 2-for-4 with a triple and two RBI. Drew Miale also went 2-for-4 with two RBI and two runs scored. Jayden Castrechini picked up the win going 3.1 innings giving up three hits and one run.
Wayne 9 Waterloo 2
Tom Bolt struck out 10 over six and two-third innings of no-hit baseball. Sean Flannery came in to record the final out to preserve the no-no. Flannery added a double and two stolen bases. Tim Catalano added three hits for the Eagles.
Williamson 4 Sodus 2
Marty Williams allowed one earned run on four hits over seven innings and finished 1-for-3 with two RBI. Kris Bulman went 2-for-4.