Rush-Henrietta 6 Fairport 3
Casimer Sobaszek finished 2-for-4 with a pair of RBI to go with two scoreless innings in relief as Rush-Henrietta handed Fairport its first divisional loss. Sobaszek plated Ray Specht and Justin Varney as part of a three-run fourth inning in which R-H took a 6-0 lead. Zach Harter got the Royal Comets on the scoreboard with a one-out RBI single to bring home Lucas Haefner in the third. Mitch Hoffower and Justin Bocklage followed with run-scoring singles for a 3-0 R-H advantage. Haefner allowed three runs (two earned) on five hits over five innings for the win. Hoffower and Specht both finished 2-for-3. Haefner scored two runs. Steve Hendrick drove in a run and scored a run. Fairport's Evan Newkirk connected on a two-run home run in the fifth. Tyler Holmes was 2-for-3 with a walk. Tyler Smith singled, walked and scored a run for the Red Raiders.
Pittsford Sutherland 7 Brockport 5
Connor Fitzsimmons went 2-for-3 with two doubles and four RBI as Pittsford-Sutherland erased an early deficit to snap Brockport's six-game winning streak. Fitzsimmons drove in Davis Heyman as part of a three-run second to knot the game at three.  The sophomore gave the Knights a lead they did not surrender with a two-out bases-clearing double in the third. Sophomore John Messina allowed three runs on six hits over five and two-thirds innings for the win. Brockport's Noah Schultz capped a three-run first with a run-scoring double. Gordon Fisher brought in two with a single to start the Blue Devil scoring. Sam Velletri was 2-for-4 with an RBI and a run scored for Brockport. Cole Penders finished 3-for-4 with a run scored.
Webster Thomas 7 Spencerport 3
Ryan Mason plated Ryan Carragher and Damian Wright with a two-run double in the first as Webster Thomas grabbed an early lead and never trailed. Ethan Maltman, Matt Geckle, and Ryan Hill all crossed the plate in the second to give the Titans a commanding lead. Mason finished the day 2-for-3 with three RBI and a run scored. The senior right-hander struck out three and allowed four hits over five innings pitched. Devin Mulcahy was 2-for-4 with a double and a stolen base. Mulcahy allowed two hits over two scoreless innings of relief.  Spencerport's Joe Carroll was 2-for-3 with a double and a run scored. Aidan Eldridge collected two RBI. Joshua Brase tossed a scoreless inning of relief.
Game day! Rangers prepare to take on Webster Thomas Titans for the second time in as many days. 5PM start at Schum Field pic.twitter.com/S2VTOczmN6

— Spencerport Baseball (@SHS_RangerBB) May 3, 2017
Brighton 4 Pittsford-Mendon 3
Isaac Nelson finished 2-for-3 and highlighted a four-run sixth inning with a bases-clearing triple as Brighton came from behind to take a second straight from Mendon. Nelson plated Andrew Cook, Jack Tullio and DJ Staszak with a two-out three-bagger to complete Brighton's rally. Ryan O'Mara allowed three runs (one earned) on four hits for the complete-game win. O'Mara struck out five and walked three.  Mendon's Jared Petrichick got Mendon on the scoreboard with a two-out RBI single in the first inning. The Vikings went on to take a 3-0 lead before Brighton came to the plate. Petrichick went 2-for-3 on the day.
Penfield 8 Gates-Chili 4
Noah Wulforst finished 3-for-4 including a two-run single in a decisive fourth inning as Penfield went on to win its third straight game. Wulforst drove in Paul Cullen and Patrick Bowes on the play. Ryan Kalbfus ignited the outburst with a leadoff double as Penfield sent 10 to the plate and scored six times to grab a 7-1 advantage. Justin Harman struck out a dozen over 6.2 innings and improved to 3-0 on the season. The junior right-hander allowed four runs (three earned) on five hits. Ryan Zimmerman went 2-for-3 with a run scored for Gates-Chili. Penfield has won eight out of its last nine games.
Irondequoit 9, Churchville Chili 1
Senior AJ Gartland struck out nine without allowing an earned run over five and two-thirds innings. Gartland also went 2-for-4 with a double and an RBI. Will Porter finished 2-for-4 with two runs scored. Churchville-Chili's Michael Mule was 2-for-3 with an RBI.
Greece Odyssey 8 Greece Olympia 0
Pat Bigham scattered four hits over a complete-game effort, and the Greece Odyssey Leopards improved to 7-4 and moved into a first-place tie with Batavia at 4-0 in Division 4 play. READ MORE.
Victor 3 Hilton 2
Tommy Ryan delivered the go-ahead run with an RBI sacrifice fly in the sixth inning, and Victor improved to 4-3 in Monroe County Division 1 and 6-6 overall. Andrew Westbrook picked up the win and allowed five hits and zero earned runs in a complete-game effort. The Victor hurler struck out five. Victor's Chris Varone tied the score with a two-out RBI single in the fifth. Hilton jumped out to a 2-0 lead in the bottom of the first on two unearned runs. Victor scored an unearned run in the top of the third to make it 2-. Victor's Santino Rosso was 2-for-3 with two runs scored. Ryan Schmitt doubled for Hilton.
Canandaigua 5  Greece Athena 4 Game 1- 9 innings
Tanner Cooper had an RBI walk off single scoring Conner Fisher in the bottom of the ninth.  Brian Hoffman got the win in relief striking out five over five scoreless innings. Cooper Crunick had a double and two RBI for Canandaigua.  Jake Kimble pitched 8.1 strong innings for Athena.
Canandaigua 4 Greece Athena 0 Game 2
Tanner Cooper struck out 13 and surrendered just two hits over 6 shutout innings.  Connor Fisher had two hits.
Spring baseball in #ROC. Wettest April in 43 years….almost as long as Bunting has been coaching @AthenaBaseball ????????⚾️ https://t.co/oWN4iXWdyg

— RCBL (@RochesterCBL) May 1, 2017
Batavia 3 Aquinas 0
Casey Radka fanned five over seven shutout innings for Batavia.  Jerry Reinhart finished 1-for-2 with an RBI, run scored and a walk.  AJ Marcello was 2-for-2 with a triple, RBI, run scored and a walk. Hunter Mazur 1-for-3 with an RBI.  Chandler Baker had one hit in three trips to the plate with a run scored.  Alex Jones and Jake Humes added a hit apiece. Hiramil Hernandez pitched six inning for Aquinas. Jason Hawkes, Trey Brown and James Huber each had a hit in three trips to the plate.
Webster Schroeder 12 Greece Arcadia 4
 Phil Ferranti finished 4-for-4 with two doubles and six RBI as Webster Schroeder put crooked numbers on the scoreboard in four separate innings. Tommy Baxter went 2-for-4 with two RBI and two runs scored. Shane Marshall had a hit, a walk, stole two bases and scored three runs. Tommy Winn walked twice and scored two runs. Tyler Candelaria doubled and came around to score. Jack Willard pitched five and third innings for the win, and Webster Schroeder improved to 16-0 on the season. Ferranti has 37 RBI for the season. Thomas Finnerty was 4-for-4 with an RBI for Greece Arcadia. Ray Mineo had two hits including a double, scored a run and drove in another.
Honeoye Falls-Lima 3 Eastridge 0
Carson Correll scattered six hits and struck out six over seven innings for the win. The senior hurler threw 80 pitches (60 for strikes) and induced seven ground-ball outs to five fly outs. He threw first-pitch strikes to 20 of 27 batters he faced. Owen VanNewkirk had a hit a walk and two runs scored to pace the HF-L offense. Connor Sinopoli went 2-for-3 for the Cougars. Justin Derleth was 2-for-3 for Eastridge. Avery Bowens had a double for the Lancers. Nick Goodrich-Leach struck out five and allowed three runs (two earned) on four hits over six innings of work for Eastridge.
Cougar baseball with a 3-0 shutout of eastridge. Carson Corell with the complete game shutout. pic.twitter.com/FMP7EhhQhA

— HF-L CSD Athletics (@HFLCSDAthletics) May 3, 2017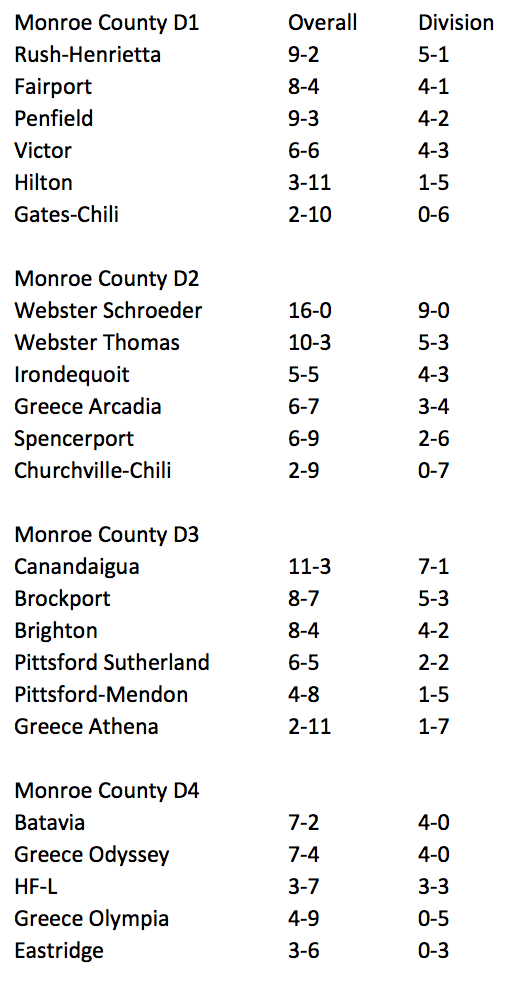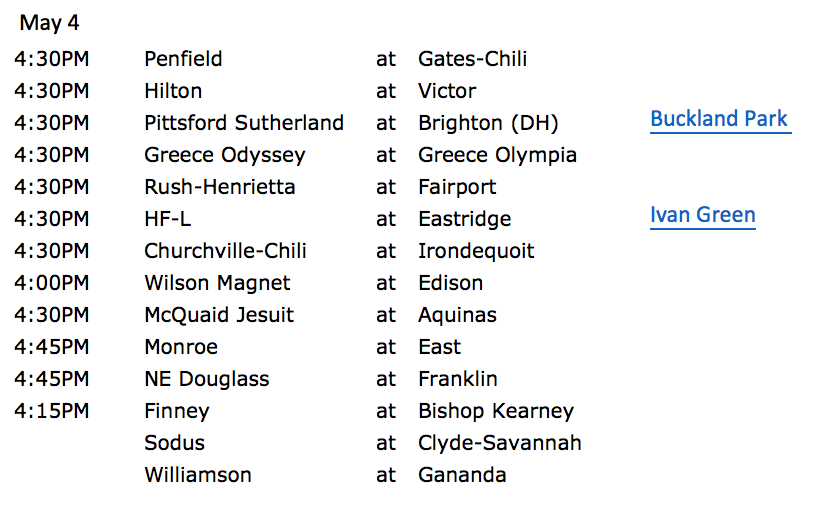 Early dismissal at noon. First pitch at 1pm. Let's play ball. Who's with me? pic.twitter.com/Z74wwA10wz

— Paul Gotham (@PickinSplinters) May 4, 2017