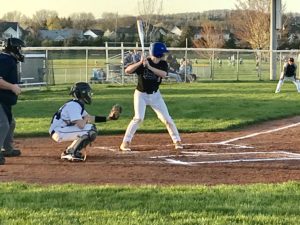 Aidan Eldridge (Spencerport/Division 2) and Shane Marshall (Webster Schroeder/Division 2) shared Division 2 honors to go with Cole Penders (Brockport/Division 3), and Kyle Straube (Penfield/Division 1) as Turf Time Monroe County Players of the Week for April 24-29.
Eldridge hit .500 (7-14) with three doubles, three runs scored, four RBI and a base on balls. His walk-off single in the eighth gave the Rangers a 6-5 victory over Greece Arcadia – Spencerport's first of three straight wins to close the week.
Marshall hit .467 (7-15) at the top of the lineup for the top-ranked team in NYS Class AA. The senior scored six runs last week and has crossed the plate 28 times this season. Marshall collected two RBI last week to go with a walk, four stolen bases and a home run. The right-hander also notched a save in Schroeder's 6-5 win over Fairport.
Penders paced Brockport to a 5-0 mark last week. The junior IF/OF hit .471 (8-17) for the week with three doubles, a triple, a home run and eight RBI. He finished 2-for-4 with a double and two runs scored as the Blue Devils completed a home-and-home sweep with a 6-4 victory over division rival Brighton.
Straube finished 2-0 last week including a complete-game effort as the Patriots handed Rush-Henrietta its first divisional loss. The senior right-hander allowed one run on three hits and fanned seven and improved to 4-0 on the season. Straube struck out 10 and walked four over 13 innings of work last week.