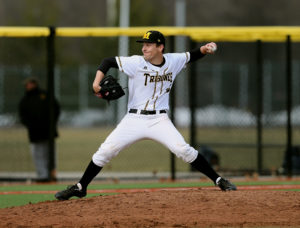 By PAUL GOTHAM
ROCHESTER, N.Y. — Damian Clarke turned in his second straight quality start, and Brent Turpyn paced the offense as the Monroe Community College Tribunes took the nightcap 9-1 to salvage a doubleheader split with Erie Community College in NJCAA action, Saturday.
Clarke struck out eight, allowed three hits and improved to 5-1 on the season. The left-hander from Carlisle, Ontario retired 10 of the last 11 batters he faced. His lone hiccup came in the fourth inning when he surrendered a two-out single to Felix Garcia followed by an RBI triple to Coyote Sokolski.  The sophomore hurler later returned the favor setting down the pair on a weak groundout and punch out.
Last Saturday in his longest outing of the season, Clarke allowed four runs (three earned) over eight innings in Monroe's 12-4 victory over Mercyhurst NE. He struck out five and walked two in that contest. Against ECC, he walked one and hit another facing 27 batters overall. With 53.1 innings of work on the season, Clarke has a WHIP (walks plus hits per inning) of 1.14.
Turpyn paced a 13-hit attack in the nightcap going 3-for-4 with a home run, four RBI and two runs scored. The freshman plated Jake Hewitt as Monroe got in the scoreboard with a two-run second. He reached on an error and scored in the fourth. The Hilton Cadet alum connected on his first career home run  in black and gold – a solo shot in the fifth, and he added insurance runs with a two-out, two-run single in the sixth as the Tribs put the game out of reach hanging a four-spot for the final margin.
Johnny Ricotta finished a home run short of the cycle and reached base all four times he came to the plate in game two. The sophomore first baseman tripled and scored Monroe's first run of the game in the second.
Matt Wagner went 2-for-3 with a triple, RBI and run scored.
Ryan Brown was 1-for-1 with two walks, a run scored and an RBI. Brown drove in Wagner with a squeeze bunt in the fourth, a play in which Brown reached on a base hit.
Colin Johnston took the tough-luck loss in game one. The sophomore right-hander fanned over 6.2 innings but received little run support from an anemic Tribune offense which left a runner on third in four separate innings as Erie scratched a run across in the seventh for a 3-2 victory over game one.
Monroe took a two-run lead early in game one. Turpyn reached on a one-out walk and moved to third when Andrew Czubaj drilled a full-count hit-and-run double. Turpin came home on Frankie Pizzo's infield single, and Jonathan Catapano made it 2-0 game with a seeing-eye single through the left side of the infield.
Czubaj threw out three would-be base stealers in game one.
The same two teams will meet Sunday at Erie CC. A 1 pm first pitch is scheduled at the Amherst campus.