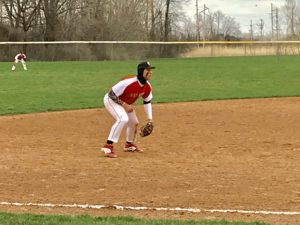 Spencerport 6 Greece Arcadia 5
Aidan Eldridge finished 3-for-5 with two RBI including the game winner on a walk-off single in the bottom of the eighth for Spencerport. Peter Mancuso tossed three shutout innings in relief for the win. Mancuso struck out one, walked one and allowed one hit. Joshua Brase started for Spencerport (4-7) and allowed five runs on five hits over five innings. Brase fanned three. Nicholas Dennison went 4-for-4 including an RBI double to knot the game at five in the fifth. Greece Arcadia's Zach Southcott was 2-for-3 with a walk and a run scored. Joe Meath gave Arcadia a 5-1 lead with a two-out bases-clearing double in the fifth.
Canandaigua 9 Batavia 2
Seth Vigneri finished 4-for-4 with a double, triple and three RBI for Canandaigua (8-3). Tanner Cooper chipped in with a three-bagger of his own and three RBI. Conner Fisher fanned five over four innings for  his first varsity win. Sam Salaone and AJ Marcelo had two hits apiece for Batavia (5-2).
Victor 17 Gates-Chili 6 
Owen
Delforte
 finished 3-for-4 with four RBI and struck out six over six innings while allowing only two hits to pick up the win for Victor (5-4) . Nate
Hampson
was 2-for-3 with three RBI. Tommy Ryan and Blake
Hildman
both doubled twice. Louie
Schafer
and Chris
Varone
 had two hits apiece. Hunter
Ruthven
was 2-for-2. Victor will host Webster Thomas
on Friday
in a non-league game. Gates-Chili travels to Churchville-Chili on Friday.
Brighton 9 Greece Athena 5
Andrew Zibuck went 4-for-4 with three stolen bases and three runs scored to lead Brighton.  Trent Wasserman was 2-for-3 with two doubles and two RBI.   DJ Staszak earned the win on the mound for the Barons. Jayson Russell hit a three-run home run in the bottom of the first for Athena.
Churchville-Chili 19 Eastridge 8
Christian Montanez finished 2-for-2 including a two-run home run in the first, his third round tripper of the season, as the Saints grabbed the early and did not trail again. Montanez doubled and walked, one of his three free passes on the day, in a nine-run second when C-C sent 14 to the plate and put the game out of reach. Ethan Putney was 2-for-2 for the Saints with a walk, two RBI and two runs scored. Jayson Wallace scored five runs. Colin Coykendall doubled, walked, scored twice and and drove in two. Michael Mule was 2-for-3 with a walk, two RBI and three runs scored. Jack Carroll drove in five. Eastridge's Brady Crombach was 2-for-3 with a walk and three RBI. Mandel Green doubled twice, drove in a run and scored once.
Brockport 18 Greece Olympia 1
Cole Penders paced an 18-hit attack with two doubles and a home run as Brockport (5-7) won its third straight. Penders doubled and scored in a three-run first and helped put the game out of reach with a grand slam in a 10-run sixth. James Atkins, William Dunbar, Mike Jamele, Noah Schultz and Sam Velletri all collected two hits apiece. Frank Lauricella allowed one run on one hit over 4.2 innings for the win. Lauricella struck out six and walked one. Velletri retired all four batters he faced in relief. Penders hurled a scoreless inning.
Aquinas 2 HF-L 1
Tim Proud drove in both Aquinas with a single. Tim McMahon struck out three and allowed two hits over four shutout innings for the win. Sam Leonardo hurled a scoreless stanza for the save. Trey Brown finished 2-for-2 with a double for the Li'l Irish.
Aquinas wins its second straight, defeating HF-L at home. pic.twitter.com/qXV7Lj2KxA

— Aquinas Baseball (@AQIrishBaseball) April 28, 2017