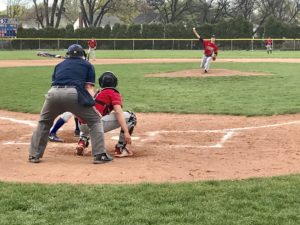 By PAUL GOTHAM
ROCHESTER, N.Y. — Justin Harman allowed one run over five innings, and the Penfield Patriots pounded out 22 hits on their way to a victory over the Irondequoit Eagles in Monroe County League action Friday at Ken Slater Field.
Harman struck out five and allowed two hits as Penfield improved to 7-3 on the season.
"He's a strike-throwing machine," Penfield coach Nick Marcin said. "He's got great control. We always play well when he pitches. The defense is on its toes because they know the ball is going to be put in a play."
The right-hander retired the first eight he faced allowing just one ball out of the infield.
"He's not over-powering," Marcin added. "He's not going to rack up a lot of strike outs, but he pitches to contact. He gets guys to swing early in at bats. Our defense is always sharp and alert because they know there is going to be a lot of action."
Penfield staked Harman to an early lead. Noah Wulforst led the game with a single down the third-base line. After a stolen base, Kyle Straube put runners on the corners with a base hit to right field.
One out later, Straube drew a throw to second on a steal attempt, and Wulforst scampered home.
Jack Burke started the second with an opposite field double and eventually scored on an AJ Kimmins RBI ground out.
The Patriots sent 12 to the plate in the fourth and took a commanding lead. Logan Martella-Tasick sparked the six-run inning with a two-run double down the third-base line.
"One of our problems early this year is that we have yet to really develop that ability to put teams away," Marcin said referring to Penfield's most recent loss to Hilton. A game in which the Patriots led 5-2 before losing 6-5. "We've had leads this year, and we've squandered them.
"If you really look at the way that fourth started we were manufacturing and trying to get one or two more and then we just fell into a rhythm where everybody started hitting the ball really well. Our approach was just to get one or two more and try to continue to separate because we haven't done a very good job of finishing games this year."
Sitting on the bench watching his team bat around didn't have a negative effect on Harman who worked a scoreless bottom of the inning before retiring the side in order in the fifth.
"We had him throw a little bit to stay warm," Marcin explained. "He's the type of pitcher that that sort of thing doesn't bother him. That's one of the things we like about hm. Something like a rain delay or an extended inning or a bad call doesn't bother him. He's very calm. He's very much in control, so I wasn't worried about him having to come back after a long layoff there."
Burke and Wulforst both connected on three-run home runs as Penfield put the game out reach in the sixth.
Burke finished the game going 4-for-4 at the plate with four RBI and three runs scored.
Andrew Ebersol was 4-for-5 with three RBI and two runs scored.
Wulforst had three hits in four at bats with three RBI and three runs scored.
Martella-Tasick was 3-for-4 with three RBI and two runs scored.
Irondequoit's AJ Gartland went 2-for-4 and doubled home a run in the third inning to make it a 2-1 game.
Connor Colbey added an RBI for the Eagles.