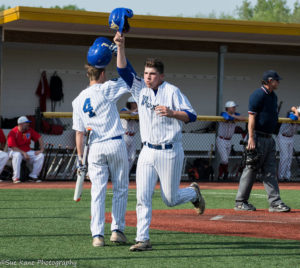 Phil Ferranti (Webster Schroeder), Ryan Hill (Webster Thomas), Logan Martella-Tasick (Penfield) and D.J. Staszak (Brighton) earned Turf Time Monroe County Players of the Week for April 16-22.
Ferranti and Hill shared Division 2 honors. Ferranti helped Schroeder to four wins last week going 8-for-11 with a double and 10 RBI. The senior catcher scored three runs and drew three walks.  Behind the plate, Ferranti threw out two of four runners.
Batting out of the leadoff spot, Hill went 8-for-9 in three wins.  The junior shortstop collected three walks and was hit by a pitch. He scored seven runs scored, drove in two and stole three bases.
Martella-Tasick earned Division 1 honors finishing 9-for-13 in four Penfield wins last week.  The senior outfielder collected five RBI, one double, a walk, a run and a stolen base.
Staszak paced Brighton to three wins on their Spring Break trip to West Virginia The senior shortstop finished 11-for-16 (.688) to nab Division 3 honors. Staszak scored 10 runs for the week connecting on five doubles and a triple. He plated three runs.