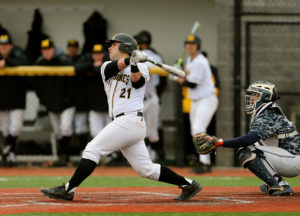 By PAUL GOTHAM
ROCHESTER, N.Y. — Trailing by three entering the bottom of the ninth, the Monroe Community College baseball team put the first three batters on base and managed three hits in the frame but could not capitalize as the Tribunes fell to Mercyhurst NE, 10-9 in a pivotal Region 3 game on Sunday.
Ryan Brown led the final at bat with an infield single. Alex Canty roped an RBI double into the left field corner, and Johnny Ricotta reached on a four-pitch walk. Ricky Sisto drove in a run with a one-out base hit, but MCC ultimately left the tying run at third base.
Monroe grabbed a 6-3 advantage in the second and still led 6-5 after six before Mercyhurst NE took advantage of two Tribune errors and scored three runs to take an 8-6 lead in the seventh.
Andrew Czubaj highlighted a four-run MCC second with an RBI double. Sisto started the stanza with a walk. Frankie Pizzo singled through the left side, and Czubaj drilled a shot into left center. After a wild pitch brought home another run, Matt Wagner reached on a walk. A Mercyhurst NE error on Wagner's stolen base allowed another run to score, and Bubba Boutelle drove in one with a ground out.
Canty got the Tribunes on the scoreboard with an RBI single in the first. The freshman shortstop finished  3-for-5 on the day with two doubles, three RBI and two runs scored. Ricotta added an RBI sacrifice fly for a 2-0 Trib lead heading into the second inning.
Stuart Martin took the tough-luck loss. The right-hander came out of the bullpen in the third with two on and two in. A fielding miscue on a ground ball scored a run before Martin worked out of the inning. An error contributed to put runners on the corners with one out in the fourth. He set down the side on a pair of punch outs and retired seven straight before the wheels came off in the seventh.
Martin had two outs and a runner on second when back-to-back singles by Tom and Ty Cannon sparked the Mercyhurst NE comeback.
Ricotta, who went 5-for-5 with three home runs including his 13th of the season to set a program record on Saturday, finished Sunday 2-for-3 with a walk, two RBI and a run scored.
Czubaj was 2-for-3 with a walk. The freshman catcher, whose only out of the day came on line drive to right center, was on deck for the final out of the game.
Wagner finished 1-for-2 with a run scored.
Boutelle had a double and a run scored.
Tom Cannon paced Mercyhurst NE going 3-for-5 with a home run, five RBI and two runs scored.
Monroe fell to 15-21 (2-3 conference) with the loss. Mercyhurst NE clinched home-field advantage in the upcoming Region 3 tournament.
MCC will host a doubleheader with Finger Lakes CC on Tuesday. A 2 PM first pitch is scheduled.