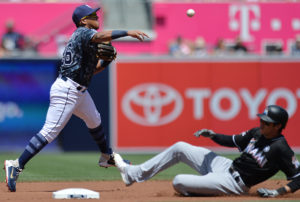 PITTSBURGH PIRATES (8-10) 2
NEW YORK YANKEES (11-7) 1
(PIT wins series 2-1)
PITTSBURGH, PA– Ivan Nova threw four innings and gave up one run on four hits and one walk, striking out seven against his former team and helping the Pirates take the series over the Yankees.
CINCINNATI REDS (10-9) 7
CHICAGO CUBS (10-8) 5
(CHI wins series 2-1)
CINCINNATI, OH– Patrick Kivlehan and Scott Schebler combined to drive in five runs as the Reds salvaged one game against the Cubs.
HOUSTON ASTROS (13-6) 6
TAMPA BAY RAYS (10-10) 4  in 10
(HOU wins series 2-1)
ST. PETERSBURG, FL– Brian McCann and Yuli Gurriel each singled home a run in the tenth inning, propelling the Astros.
BOSTON RED SOX (11-8) 6
BALTIMORE ORIOLES (12-5) 2
(BAL wins the series 2-1)
BALTIMORE, MD– Mookie Betts went 2-for-3 with three RBI as the Red Sox took one of three from the Orioles on the road.
PHILADELPHIA PHILLIES (9-9) 5
ATLANTA BRAVES (6-12) 2
(PHI wins series 3-0)
PHILADELPHIA, PA– Cesar Hernandez's two-run home run contributed to a four-run eighth inning.
CHICAGO WHITE SOX (8-9) 6 
CLEVELAND INDIANS (10-8) 2
(CLE wins series 2-1)
CHICAGO, IL– Derek Holland went six innings and allowed one run on three hits and three walks in the White Sox lone win in the series against the Indians.
ST. LOUIS CARDINALS (9-10) 6
MILWAUKEE BREWERS (9-11) 4
(STL wins series 3-1)
MILWAUKEE, WI– Mike Leake helped himself out with a pair of RBI as he earned the series-clinching win for the Cardinals against the Brewers.
DETROIT TIGERS (10-8) 13
MINNESOTA TWINS (8-10) 4
(DET wins series 2-1)
MINNEAPOLIS, MN– John Hicks finished 3-for-5 with three RBI to help the Tigers blow out the Twins.
TEXAS RANGERS (9-10) 5
KANSAS CITY ROYALS (7-11) 2
(TEX wins series 4-0)
ARLINGTON, TX– Yu Darvish lasted eight innings, surrendering two runs on five hits and one walk, while striking out eight, and the Rangers earned the four-game sweep of the Royals.
COLORADO ROCKIES (13-6) 8
SAN FRANCISCO GIANTS (6-13) 0
(COL wins series 3-0)
DENVER, CO– Kyle Freeland was credited with no runs, six hits and one walk in seven innings in the Rockies shutout and sweep finishing win over the Giants.
TORONTO BLUE JAYS (5-13) 6
LOS ANGELES ANGELS (8-12) 2
(TOR leads series 2-1)
ANAHEIM, CA– Devon Travis contributed two hits, two RBI and two runs scored in four at bats, allowing the Blue Jays to takes the lead in the series.
SEATTLE MARINERS (8-12) 11
OAKLAND ATHLETICS (10-9) 1
(OAK wins series 3-1)
OAKLAND, CA– Nelson Cruz (five) and Taylor Motter (four) combined to bring in nine runs to fuel the only win of the series for the Mariners.
LOS ANGELES DODGERS (9-10) 6
ARIZONA DIAMONDBACKS (12-8) 2
(ARZ wins series 2-1)
PHOENIX, AZ– The Dodgers lone series win over the Diamondbacks came thanks to Adrian Gonzalez and Yasmani Grandal, who each drove in a pair of runs.
MIAMI MARLINS (10-8) 7
SAN DIEGO PADRES(8-12) 3
(MIA wins series 2-1)
SAN DIEGO, CA– Justin Bour hit a three-run home run in the sixth inning, helping the Marlins get the win in the series against the Padres.
WASHINGTON NATIONALS (13-5) 6
NEW YORK METS (8-11) 3
(WSH wins series 3-0)
NEW YORK, NY– Daniel Murphy sparked the Nationals' offense with a grand slam in the first inning.