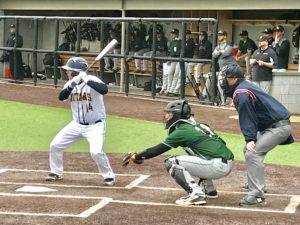 Irondequoit Tournament
Webster Schroeder 12 Greece Arcadia 0
Michael Masucci finished 3-for-5 and scored two runs including a one-out single in a six-run second inning when Webster Schroeder sent 10 to the plate on their way to the Irondequoit Tournament championship. Tournament MVP Connor Bisaillon scattered four hits over five shutout innings, and Schroeder improved to 9-0 on the season. Bisaillon struck out three, walked none and threw 49 of his 75 pitches for strikes. Phil Ferranti went 2-for-4 with a double, walk, four RBI and a run scored. John Stocum finished 2-for-3 with a walk, RBI and run scored. Nick Vogt drove in a pair of runs, and Josh Simons walked twice had a hit in three trips to the plate, scored a run and drove in another. Tyler Candelaria and Shane Marshall scored two runs apiece. Peter Smith worked two scoreless innings in relief. Kevin Blum hurled 2.1 scoreless innings out of the bullpen for Greece Arcadia. The senior right-hander struck out two and walked none. Justin Augustine and Isaac Yorkey collected two hits apiece for the Titans.
Webster Schroeder 15 Irondequoit 2
Shane Marshall paced a 15-hit attack going 3-for-5 with a home run, five RBI and a run scored as Webster Schroeder advanced to the Irondequoit Tournament final. Connor Bisaillon finished 2-for-3 with a double, a walk and an RBI. John Stocum also went 2-for-3 with a walk and an RBI. Stocum scored a run. Tommy Baxter, Caleb Punter and Tommy Winn all scored two runs. Ben Mulhall allowed two hits over five shutout innings. The senior left-hander struck out four, walked three and threw first-pitch strikes to 13 of 18 batters faced. Daniel Borg and Jimmy Weaver scored Irondequoit's runs.
Greece Arcadia 2 Greece Athena 1
Drew Southcott plated Jake Clemens with a walk-off single in the bottom of the eighth, and Greece Arcadia advanced to Irondequoit Tournament final. The game, dedicated to the memories of former Greece Arcadia Principal Leslie Flick and former Greece Athena pitching coach Lou Izzo, continued The Cup series which has existed since 1999 between crosstown rivals.
A great tribute from Athena for coach Izzo…. pic.twitter.com/ZhdLYk1WW2

— RCBL (@RochesterCBL) April 22, 2017
Irondequoit 5 Greece Athena 4
Nick Serce struck out three over four innings of work for the win as Irondequoit beat Greece Athena in the Irondequoit Tournament consolation game. Jackson DeJohn came out of the bullpen and hurled three innings for the save. DeJohn finished 2-for-4 with an RBI at the plate. Chris Butler was 3-for-4 with an RBI. Will Porter scored three runs. Connor Colbey chipped in going 2-for-3 with an RBI. Ryan Ballard drove in a run and paced Greece Athena going 2-for-3 at the plate. Jayson Russell plated two runs with a  hit. Irondequoit is 3-2 on the season. Greece Athena fell to 1-6.
2017 Irondequoit All-Tournament Team
Jackson DeJohn Irondequoit
Drew Southcott Greece Arcadia
Neale McMullen Greece Arcadia
Phil Ferranti Webster Schroeder
Ben Mulhall Webster Schroeder
MVP Connor Baisaillon Webster Schroeder
Webster Thomas 9 Hilton 1
Ryan Carragher and Ryan Hill combined to go 7-for-7 and both plated runs in a three-run second as the Titans improved to 6-2 on the season. Justin LaLoggia allowed one run on five hits over five innings for his first varsity win. LaLoggia fanned three. Jim Marasco came out of the bullpen in the sixth with the bases loaded, none out and retired the next three batters he faced to escape the jam. Marasco struck out two over two scoreless innings of relief. Carragher finished 3-for-3 with two RBI and a run scored. Hill was 4-for-4 with a walk, two RBI and two runs scored. Ethan Maltman added an RBI hit in the second. Steve Minardo highlighted a four-run fourth win an RBI double. Damian Wright drove in a run with a single. Mateo Lopez brought home Matt Geckle with an RBI double in the seventh. Kyle Pellechia drove in Hilton's run with a single in the fifth.
Rush-Henrietta 3 Spencerport 2
Lucas Haefner plated Jason Bocklage with a walk-off single as Rush-Henrietta rebounded from its first loss of the season and improved to 5-1 (2-0 Monroe Country DI). Bocklage led the seventh with a double. The senior struck out five and allowed five hits over 6.2 innings of work on the mound. Haefner picked up the win in relief.
FRIDAY
East 14 Waterloo 5
Pablo Garcia struck out 13 and allowed five runs on two hits as the East High Eagles claimed the eighth Annual East High Tournament. Garcia retired the last seven batters he faced, and East improved to 8-0 on the season. Eric Maldonado finished 3-for-3 with two walks, four RBI and three runs scored to pace the East offense. Sam Sheldon was 2-for-3 with a walk and three runs scored. Joel Alicea chipped in going 2-for-3 with a walk, three RBI and a run scored. John Segarra scored three runs, drove in one and stole a base. East sent 10 to the plate and scored six runs in the third inning to take a commanding 11-2 lead. Greg Hoke scored two runs for Waterloo. Derek Slykwa drove in two for the Indians.
2017 East High All-Tournament Team
Joel Alicea East High
Eric Maldonado East High
Greg Hoke Waterloo
Jake Webb Waterloo
Donnie Kemp Lyons
Johnny Carson Greece Olympia
Fairport 6 St. Edwards 5 (OH) (8 innings) from Myrtle Beach
Tyler Smith and Jake Schuler went 2-for-4 with a double apiece. Smith scored two runs. Schuler collected three RBI and scored a run for the Red Raiders. Trevor Pollock struck out five over six innings and did not allow an earned run. Matt Adams threw an inning out of the bullpen for the win. Fairport is 5-2 on the year.
Webster Schroeder 23 Gates Chili 3
Schroeder improved to 7-0 on the season. The Warriors will play in the Irondequoit Tournament on Saturday.
Webster Thomas 7 Rush-Henrietta 1
Ryan Mason hurled seven complete as Webster Thomas  improved to 5-2 on the season knocking off the previously undefeated Royal Comets. READ MORE.
Hilton 11 Greece Athena 6
Ryan Schmitt finished 2-for-3 with a walk and drove in three during the decisive sixth as Hilton erased a four-run deficit to pick up its second win of the season. READ MORE.
Tomorrow morning's podcast features an exclusive interview with @Jon_Schwind. He'll update us on his health and the 2017 season. #GreatGuy pic.twitter.com/9pgy8bReAH

— The 259 Show (@The259Show) April 21, 2017
Vikings travel to Athena today for a league matchup. First pitch at 4:30.

— Mendon Baseball (@MendonBaseball) April 24, 2017