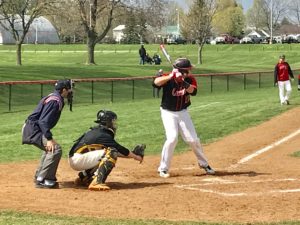 By PAUL GOTHAM
ROCHESTER, N.Y. — When it comes to being a headlight, Hilton's Ryan Schmitt cast a blinding glare Friday afternoon.
With the Cadets managing just three hits through the first five innings, Schmitt stepped to the plate to start the sixth. Fifteen batters and six hits later Hilton turned a four-run deficit into an insurmountable advantage.
Schmitt finished 2-for-3 with a walk and drove in three during the decisive sixth as Hilton defeated Greece Athena, 11-6 in Monroe County League at Schwonke Field.
The Hilton senior jumped on a fastball up in the zone and sent a leadoff shot over the left-field fence to kick start Hilton's offense.
"That pitch was a fastball right in my wheelhouse," Schmitt said. "I was just trying to get the players going, trying to re-establish the fire. I was just trying to do my job as the number-three hitter, just get on base, get people off base."
Nine batters later, the first baseman plated a pair with a base hit.
"I had to stay back on that one. I'm not really an away pitch guy, so I had to make sure to stay within myself."
In between Schmitt's bookends, nine Cadets reached base.
"A good time to break out, Wow!" Hilton coach Jeff Murphy said. "Just good approaches and good aggressive swings. We've been working on a lot of that stuff. We'll take it."
Justin Devos and Gavin Moore delivered back-to-back RBI base hits. David Stirpe joined the hit parade with an RBI single to right. Morgan Kunigan brought in a run with a groundout, and Drew Hernecker's two-out pop up got caught in the wind and cleared the bases putting the game out of reach.
"We've talked about just bouncing back," Murphy added. "They did a good job of that. It's good to see."
Nic Rohloff hurled four innings out of the bullpen for the win, and Hilton improved to 2-5 on the season.
"He throws that ball that looks this big but when it gets to the zone, it looks this big," Murphy said motioning with his hands starting shoulder-width apart before coming together. "That's really a good outing from him."
The game started on Thursday and was suspended due to rain with Athena leading 1-0 in the fourth.
The Trojans added to that in the fifth. Mike Ruta connected on a two-out, two run double, and Jayson Russell followed with an RBI single to put Athena up 4-0.
Athena's James Sciortino finished 2-for-2 with two runs scored. Jake Kimble was 3-for-3 with two RBI.
Hilton hosts Webster Thomas on Saturday. An 11 AM first pitch is scheduled.
Athena will play in the Irondequoit tournament. The Trojans will take on crosstown rival Greece Arcadia at 12:30. The game will be dedicated to the memory of Leslie Flick (former Greece Arcadia Principal) and Lou Izzo (former Greece Athena pitching coach).