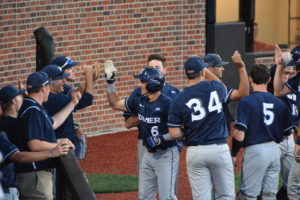 Courtesy of GoXavier.com
CINCINNATI –
A solid start by Brad Kirschner and a three-run bomb by Rylan Bannon helped lead Xavier baseball to a 9-1 win over crosstown rival Cincinnati
on Tuesday
at Marge Schott Stadium.
Bannon's shot – his second in as many games – was a towering, opposite field blast in the sixth. He continues to lead the team and the BIG EAST with 10 homers on the season.
The win advances XU (21-16) to the title game of the Joe Nuxhall Classic for the first time since the inaugural event in 2009, which the Musketeers won over Wright State. First pitch will come against Miami (OH) on Wednesday at 3 p.m. inside Marge Schott Stadium.
UC drops to 18-18 with the loss.
XU AT THE PLATE
• XU had a double digit hit total for the fourth time in six games, collecting 10 hits.
• Matt Fallon stayed hot, going 2-for-4 with a pair of runs scored and his sixth double of the season. In his last three games, the senior is 5-for-9 (.556) with two homers, seven runs scored and four RBI.
• Joe Gellenbeck also had a multi-hit day, recording a 2-for-3 line with a pair of runs scored and an RBI.
• Rylan Bannon went 1-for-5, collecting the big blast for the Musketeers with a three-run shot in the sixth inning. He now leads the team and BIG EAST with 10 homers on the year. He also leads XU with a 12-game streak of reaching base.
• Blaine Griffiths went 1-for-4, extending his team-leading hitting streak to five games.
• Will LaRue went 1-for-3 with a walk and a run scored. LaRue is now batting .333 (23-for-69) over his last 21 games.
• Conor Grammes (1-for-4, RBI), Mitch Gallagher (1-for-4, R, RBI) and Nate Soria (1-for-4, R) also contributed hits for XU.
• Chris Givin walked twice and knocked in a run despite going hitless.
• The Musketeers worked six walks as a team and have had a base on balls in all 37 games this season.
XU ON THE MOUND
• Brad Kirschner (3-1) turned in his best outing of the season, tossing six innings of one-run ball to pick up the win. The senior lefty struck out two and allowed just three hits. It was his longest outing since going 6.2 innings at Seton Hall on May 7, 2016.
• In his last 12 appearances, Kirschner has recorded a 2.45 ERA and struck out 18 in 22 innings of work.
• Trey Schramm posted two scoreless innings in relief, striking out two and allowing just one hit.
• Jason Hall came on to finish out the win in the ninth, striking out one in a scoreless frame. The senior righty lowered his season ERA to 3.38 and has had scoreless appearances in five of his six chances this season.
• XU starting pitching continues to roll, as Kirschner added to a string of strong starts over the weekend. Since Thursday, XU starters have allowed just one earned run in 23 innings for a 0.39 ERA. In that four-game span, the XU rotation has allowed just 14 hits while striking out 15.
HOW XU SCORED
THIRD INNING: Nate Soria and Will LaRue singled back-to-back to open up the inning before a one out walk loaded the bases. Joe Gellenbeck then singled up the middle, moving everyone up a station and giving XU a 1-0 lead.
FIFTH INNING: A Will LaRue walk and Matt Fallon double opened things up, putting runners on second and third right away. Mitch Gallagher then singled to short on a ball hit deep in the pocket, bringing home a run to make it 2-1. A Joe Gellenbeck walk would load the bases before Rylan Bannon reached on a fielder's choice on a come-backer to the mound. UC's pitcher threw the ball away on the ensuing play at the plate, giving XU a 3-1 lead. A long shot to center by Conor Grammes was then misplayed by the center fielder, allowing everyone to move up a spot and giving XU one more run. A bases loaded walk by Chris Givin and a ground out by Blaine Griffiths would make it 6-1 before XU eventually stranded two to end the threat.
SIXTH INNING: Matt Fallon singled up the middle and stole second to start the inning. Joe Gellenbeck then was hit by a pitch before Rylan Bannon hit a deep homer to right, giving XU a 9-1 lead.
UP NEXT
• XU returns to Marge Schott Stadium
on Wednesday
for a
3 p.m.
matchup against Miami (OH) in the title game of the Joe Nuxhall Classic. It will be XU's first appearance in the final since 2009.