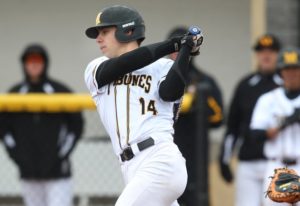 Rundown of Monroe Community College Tribune alums continuing their playing careers.
Collin Stack (2015-2016) finished 3-for-5 with two doubles and drove in a University of Maryland, Baltimore County (UMBC) Division I single-game record eight RBI as the Retrievers defeated Mount St. Mary's 19-7 in non-conference action. Stack doubled home two runs in the sixth and cleared the bases with a two bagger in the eighth. Stack's sacrifice fly in the fifth brought home two, and he singled in a run in the seventh. Stack has appeared in all 22 UMBC games hitting .310 with eight doubles on the season.
Other Monroe Community College Tribunes moving on:
Danny Mendick (2012-13) started his third season in minor league baseball going 1-for-3 in last week's season opener for the Winston-Salem Dash of the Advanced-A Carolina League. Mendick, a 22nd round pick of the Chicago White Sox in the 2015 MLB Draft, earned South Atlantic League Mid-Season All Star in 2016 with Kannapolis.
Matt Brooks (2015-16), a 35th round pick of the Miami Marlins in the 2016 MLB Draft, will start his second season of pro ball later this spring.
Dave Vaccaro (2015) put together an eight-game hitting streak for the St. Bonaventure Bonnies. Vaccaro leads the Bonnies with 21 RBI and is hitting .292 with 11 extra-base knocks.
Tommy LaCongo (2014-2015) missed three games because of injury before returning to the St. Bonaventure lineup to drive in three runs with a double during the Bonnies 7-2 win over Niagara this past week. LaCongo has four doubles and nine RBI.
Jimmy Latona (2014-2015) was named Pennsylvania State Athletic Conference (PSAC) Athlete of the Week and NCBWA Hitter of the Week earlier this season. Latona has started all 24 games and leads the Lakers with a .756 slugging and a .546 OBP. He is hitting .449 with 17 RBI.
Luke Tomczyk (2015-2016) The right-hander has struck out 18 over that span.
Tommy Mastrodonato (2014-15) is 2-1 with a save in 12 appearances for Mars Hill. Mastrodonato has fanned 30 in 28.1 innings. of work.
Blaine Farrell (2014-15) has made 11 appearances on the mound including four starts for Mars Hill. The left-hander is 3-4 on the season.
Hunter Merrill (2014-2015) is hitting .395 with 37 runs scored in 34 games for Mars Hill.
Ellington Hopkins (2014-15) has made 16 starts for UNC Central and is hitting .414 for the Eagles. Hopkins has scored 18 runs.
Ryan Prevost (2014-2015) has made 11 starts for St. John Fisher in 2017. Prevost is hitting .280 with eight runs scored. He finished 2-for-2 with a walk and two RBI in Fisher's win over St. Lawrence this past weekend.
Luke Brust (2015-2016) has appeared in 14 games this spring for the Tiffin University Dragons including going 2-for-3 with a walk and two runs scored in a win over Wheeling Jesuit.
Alex Bellardini (2015-2016) is 2-0 in 17 appearances on the mound with Youngstown State. Bellardini has struck out 15 and walked 10 in 22 innings of work for the Penguins.
Anthony Santoro (2015-2016) has made 14 starts behind the plate for Youngstown State including a 2-for-3 performance against Wright State over the weekend.
Zach Vennaro (2015-2016) has one save in 16 appearances on the mound for Mount Olive University – ranked number one in the country among NCAA Division II schools. Vennaro has struck out 18.