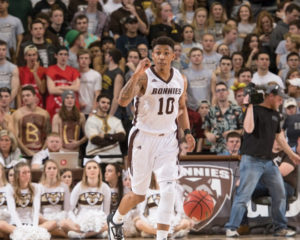 Courtesy of GoBonnies.com
St. Bonaventure junior point guard Jaylen Adams today announced that he will place his name into consideration for the 2017 NBA Draft but did not retain an agent.
"Jay and I have talked about this opportunity and I support his decision," said St. Bonaventure coach Mark Schmidt. "He is going to take advantage of the NCAA rules which allow him to test the waters, so to speak. It's a great chance for him to grow as a basketball player."
The NCAA allows student-athletes to declare for the draft in order to participate in pre-draft workouts and receive feedback from NBA teams. Adams will retain his final season of collegiate eligibility as long as he does not sign with an agent and removes his name from draft consideration within 10 days after the end of the NBA Draft Combine. That deadline this year is May 24.
Adams was the second-leading scorer in the Atlantic 10 Conference at 20.6 points per game. He also led the A-10 and ranked seventh nationally in assists at 6.5 per game, and his 195 assists are the second-best single season total in program history. The Baltimore, Md., native finished second in the A-10 and 22nd nationally in steals (2.2). He set a school record with 206 free throws and made 77 three-pointers. Adams recorded four point-assist double-doubles.
Earlier this month, Adams was named to the National Association of Basketball Coaches All-District 4 team and the U.S. Basketball Writers Association All-District II team. He is a two-time, First Team All-Conference selection.
Adams led St. Bonaventure to a 20-12 record, including a fifth place finish in the Atlantic 10.
Over his three seasons, Adams has scored 1,377 points.