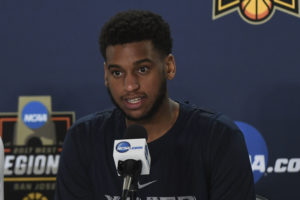 No. 2-seed Arizona (32-4/16-2 Pac-12) vs. No. 11-seed Xavier (23-13/9-9 Big East)
10:09 pm SAP Center, San Jose
What's at stake: A spot in the Elite Eight against the winner of No. 1-seed Gonzaga and No. 4-seed West Virginia.
Clashing forces: Arizona is 16th in the nation with a rebounding margin of 6.8. Xavier is 19th at 6.6.
They said it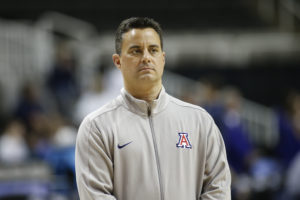 Arizona's Sean Miller: "Xavier is a great rebounding team, because of such change and the injury (to Edmond Sumner) and all the different things they've had to deal with. I think that's lost sometimes. They rebound toe to toe on defense and on offense with any team that we've played. As a matter of fact, they might be one of the best overall rebounding teams that we've played. We're going to have to be able to answer the bell in that one area. Macura and Bluiett are experienced. Their coaching staff does a great job of creating set plays and action to get them shots. And when Xavier is on defense — and that's probably the biggest thing that's changed, really they're playing three different defenses. And you have to recognize the defense they're in. You have to make sure that you can handle the ball and get good shots.
Xavier's Chris Mack: "I don't think it's easy to attack any of the teams in the tournament. That's who we've always been. We've always wanted to be a team that plays inside/out first. We want to get the ball into the lane, whether it's through post-ups, through drives, through offensive rebounding, through plays. The team I think that gets the ball in there the most often gets to the foul line and can also generate better looks from the outside. And it's taken our team a little bit longer, especially with the loss of Edmond, who put so much pressure on the defense and got into the lane. But I've always been a big believer that — part of that is because that's what Sean and Skip taught me when I was assistants for them. And so we didn't try to veer. And I think our guys have done a terrific job in the postseason with that in mind on the offensive end."
Players to watch:
Arizona – Rawle Alkins (11.1 ppg, 5.0 rpg), Kadeem Allen (9.8 ppg, 3.0 apg), Lauri Markkanen (15.8 ppg, 7.2 rpg) and Allonzo Trier (17.1 ppg).
Xavier – Trevon Bluiett (18.5 ppg, 5.7 rpg), RaShid Gaston (7.6 ppg, 6.1 rpg), Quentin Goodin (5.1 ppg, 3.4 apg) and J.P. Macura (14.3 ppg).
How they got here:
Arizona beat North Dakota St. (100-82) and Saint Mary's (69-60). Xavier beat Maryland (75-66) and Florida State (91-66).
All-time series: Arizona took the only other meeting between the two schools, 68-60 in the 2015 West Region semifinal. This will be the second meeting between Xavier and former head coach Sean Miller who was the head coach of  the Musketeers from 2004 to 2009. Chris Mack was Miller's top assistant at Xavier for five seasons.