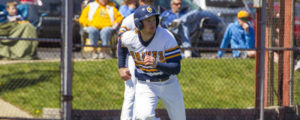 Courtesy of GoGriffs.com
The Canisius baseball team won the rubber match against non-conference foe, George Mason on Sunday, as the squad scored early and often, winning 7-1 in Holly Springs, N.C. With the win Canisius improves to 12-7 and the Patriots drop to 7-13.
Canisius offense came to the field ready to play when the team showed up at the field on Sunday morning, scoring runs in all but one frame through the first four stanzas.
RBI singles by Ryan Stekl and William Krull got the Blue and Gold started in the first, and Canisius tacked on another in the second to make it 3-0.
With the score 4-1, Canisius broke through with a trio of runs in the top of the eighth to put the game away.
In the big frame, Liam Wilson's double did the damage, as he drove in Cyrus Senior, Tim Kensinger, and Krull.
Andrew Kneussle earned his first win of the season, going 4.1 innings and allowing just four hits and no runs, and fanned five in the win.
Michael Ginther came on in relief, and pitched 1.2 innings and was charged with one hit and one run and three strikeouts, while Andrew Sipowicz worked the three inning save, allowing just one hit and striking out five.
Jake Lumley led the team in hits, rapping out three hits in five at bats, and also tallying an RBI.
Wilson continued his strong weekend, tallying just one hit but making it count driving in three RBI in one swing of the bat.
Canisius now comes home and prepares for one final non-conference series, as the squad heads to Kennesaw, Ga., and playing the Owls in a four-game series spanning March 24-26.