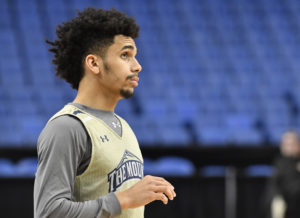 By PAUL GOTHAM
BUFFALO, N.Y. — On the surface, Mount St. Mary's Mountaineers lost 11 of their first 12 games this season. Closer inspection shows a team which challenged itself with a rigorous non-conference slate ranked seventh-hardest by KenPom.
Among their first eight opponents, three (then-No. 20 West Virginia, then-No.20 Iowa State and then No.-25  Michigan) were ranked and two more (Minnesota and Arkansas) have also earned a spot in the NCAA Tournament. Add in a contest against Patriot League champ Bucknell and it's obvious Mount wasn't ducking anyone before entering Northeast Conference play.
How that experience carries over to Thursday's East Region first-round matchup against top-seeded Villanova is yet to be seen, but fifth-year Mount coach Jamion Christian is comfortable with his team's preparation.
"I feel like to be at your best, you have to challenge yourself against the best," Christian said during Wednesday's pre-game press conference at Key Bank Center. "You have to look in the mirror and see where you're weakest at against the very best. If you do that against anyone else, you're kind of short-changing us.
"So I think it helps us to understand what we need to do. I think the fact we've been in a lot of games is a big strength for us. Understanding the level of physicality, understanding the level of execution you've got to have, understanding how fast you've got to get back in transition, because those all change depending on the level that you're at. I think that's the big strength of our team, just having — the fact that we've had to do it time and time again and we've got experience doing it."
The Mountaineers (20-15) finished 14-4 in NEC play. They have rattled off five straight wins including three in a row to capture their second NEC title under Christian.
"We're going to play against a team that's complete on all ends," Christian said referring to Villanova. "When we played that nonconference schedule we had to do that, playing six teams in the NCAA Tournament, I think eight teams that were in there in their championship games and then a Texas Arlington team that lost in their semi-final."
Sophomore guard Elijah Long paces the offense scoring 15.1 per game. Junior Robinson adds 14.3, and Miles Wilson chips in 11.5, and the Mountaineers hang their hats on "Mount Mayhem" a style of play that mixes a pressure defense which limits opposing three-point attempts while creating as many long-range opportunities as possible for Mount.
"We're going to play predominantly man-to-man," Christian explained. "We have some zone stuff in there. But I just feel like real men play man-to-man defense."
They hit 10 of 19 (52.6 percent) from behind the arc in their First Four win over New Orleans.
"Offensively we're going to try to spread you out. We play a couple different styles. We'll play two post guys some with the opportunity to ball screen you and throw the ball to the low post and attack from there. But predominantly the game we'll play with four guards out, very similar to Villanova. We're going to space the floor our. We're going to shoot 24 to 25 threes a night. We shot those at 36 percent. this past year which is a pretty high percentage. We're going to try to space you out and make outside shots."
Mount will face a Villanova team returning three seniors from a national championship squad.
Josh Hart, a National Player of the Year candidate, scores 18.9 points per game for the Wildcats while grabbing 6.5 rebounds. He led the Wildcats playing 31.4 minutes per game during the championship run. Kris Jenkins, who hit the game winner at the buzzer in last year's national final, scores 13.4 and grabs 4.2 rebounds this year as a senior. Darryl Reynolds scores 4.7 while grabbing 5.4 boards.
Sophomore Jalen Brunson logged 24 minutes a game last year. He scores 14.8 per game.
"When that ball goes up tomorrow, it won't matter if they're National Champions or not," Christian said. "That's the reality of it. The team that puts together the best game plan and the team that follows it best will have the best opportunity to win. They've done that 30-plus times this year. That's the challenge that it is.
"I have such a great belief in the guys we have on our roster…You have to believe at some point that your preparation has you ready for the moment."
A 7:10 pm tipoff is scheduled.