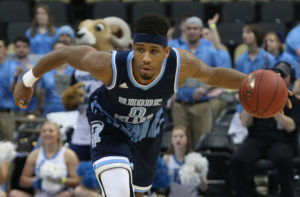 By PAUL GOTHAM
PITTSBURGH, PA — Tournament MVP E.C. Matthews finished with 19 points including a pair of free throws in the closing seconds, and the Rhode Island Rams defeated the VCU Rams, 70-63 to claim the Atlantic 10 championship and secure a spot in the NCAA Tournament.
Matthews connected on 6 of 11 shots from the floor including four of five from behind the three-point arc. The junior guard grabbed nine rebounds and handed out two assists.
Matthews and Jared Terrell paced an early run as Rhode Island took a 40-27 halftime lead and never trailed. URI only trailed for :43 during the three games in the Atlantic 10 Championship played at PPG Paints Arena.
"We played with a lot of confidence here," Rhode Island head coach Dan Hurley said. "We jumped on people here."
Matthews, who connected on all four of his three-point attempts in the semi-finals, hit his first of three first-half triples to get Rhode Island on the board. Terrell nailed a trey when teammate Jeff Dowtin found him on the break. Kuran Iverson found the range from long distance, and Matthews scored on a drive to give URI a 15-4 lead.
"In this tournament, he was locked in like that guy that NBA people love, scoring at a pretty high clip while only taking ten, 11 shots," Hurley said.  "I think you win when you have guys playing at a first-team all-conference level or at a Player of the Year level; and in this tournament, we've had guys play like first-teamers and Player of the Year types."
Hassan Martin punctuated an 11-2 run with a slam. URI had its largest lead of the first half, 29-12.
JeQuan Lewis highlighted a 6-0 spurt as VCU pulled within five. After a pair of Mo Alie-Cox free throws, Lewis got loose in the lane off the dribble and finished at the rim. The senior guard followed with an end-to-end rush and VCU trailed 53-48.
"We fight; we're hard to kill," VCU head coach Will Wade said. " We dug too big a hole in the first half."
It was still a five-point game at 54-49 when Jarvis Garrett converted one of two free throws. Cyril Langevine grabbed the offensive rebound on the missed free throw and finished. Matthews followed with a dagger three as the shot clock expired to push the lead back to double digits at 60-49.
VCU made it a one-possession game when Lewis went the length of the floor to make it 64-61 game. Justin Tillman scored on an inbound play to keep the game within three at 66-63.
Terrell hit two free throws with :34 remaining before Matthews hit two more from the charity stripe.
Rhode Island, which connected on 12 of 20 3-pointers in their semi-final win over Davidson, started the game hitting five of six and finished 8 of 20 for the game. URI came in hitting 33.8 percent from long range.
Terrell led all scorers with 20 points. Martin had 11.
Lewis paced VCU with 15 points. Justin Tillman had 10.
VCU outrebounded Rhode Island 47-36 including 23 on the offensive boards, but VCU managed just 14 second-chance points to nine for URI.
The championship was the first for Rhode Island since 1999.
All-Tournament Team: Jack Gibbs (Davidson), Marquise Moore (George Mason), JeQuan Lewis (VCU), Hassan Martin (Rhode Island) and E.C. Matthews (Rhode Island).