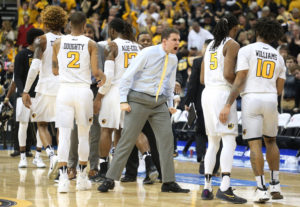 By PAUL GOTHAM
PITTSBURGH, PA — Will Wade and his VCU Rams will make their fifth straight appearance (second under Wade) in the Atlantic 10 championship game Sunday when they take the court against the Rhode Island Rams. If VCU is to earn its second A-10 title, Wade knows they will have to dig deep.
"They are the one team in the league that is as or more physical than we are and as big and strong as we are down low," Wade said after VCU's 87-77 victory over Richmond in Saturday's Atlantic 10 semifinal. "It's mano-a-mano tomorrow,"
Rhode Island beat VCU, 69-59 on February 25th. A game in which Hassan Martin corralled 18 boards, and URI outrebounded VCU 48-31.
"They just punked us in Rhode Island," Wade added. "They just absolutely punked us. They had our offense pushed out to halfcourt. They just obliterated us on the glass. I've forgotten what the final numbers were. It was ugly. It was bad. It was at least 12, 15 on the glass and we just got annihilated."
The win was the third straight for Rhody at the time, they have now taken seven in a row.
"We didn't finish well in the paint," Wade added. "We gave ourselves a chance to win. We were the under four media — we fouled them when we were down two and we tried to run through a pass and we fouled them. They hit the free throws and it was over from there. We gave ourselves a chance to win. We just didn't do enough. We've got to do a really good job on the glass. We have to do a really good job finishing in the paint."
Jared Terrell scored 20. Martin added 17, and Jarvis Garrett had 10 in the game.
"We're going to play as hard as any team in the country," Rhode Island head coach Dan Hurley said. "We're one of the best defensive teams in the country, both guarding and at three-point line and blocking shots. It's just going to come down to can we have another good offensive game? I don't know if we're going to have to shoot 12 from 23, but can we have another good offensive game. If we can, we'll probably have a chance.
URI, which has gone through a series of lineup of adjustments because of injuries and illnesses may be finding its stride at the right time.
"It's going to be a tractor pull," Wade said. "It's going to be low-scoring and it's going to be a grind-it-out type of deal. It's on us, and so we'll need to be ready."
E.C. Matthews led three in double figures, and the Rhode Island Rams advanced to the Atlantic 10 championship game with an 84-60 victory over the Davidson Wildcats, Saturday. The 24-point margin of victory was the largest in an Atlantic 10 semifinal since 1993.
Rhode Island returns to the A-10 championship game for the first time since 2007. URI last won the A-10 in 1999. They trailed for :24 seconds on Saturday and a combined :43 for their first two tournament games.
JeQuan Lewis scored a pair of late buckets in regulation, and VCU went on to defeat the Richmond Spiders in overtime 87-77, Saturday.
Rhode Island will play VCU in Sunday's championship game. A 12:30 pm tipoff is scheduled. CBS will televise the game.
"We got a little discombobulated there in the first half at Rhode Island, but we will be ready. We'll go back and rest and prepare as best we can."